Wonder Woman 1984's Gal Gadot And Kristen Wiig Explain Why The Film 'Doesn't Feel Like A Sequel'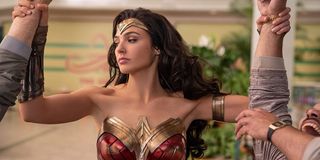 When it released in 2017, Wonder Woman became a surprise critical and box office success, earning overwhelmingly positive reviews and roughly over $821 million at the box office. Typically, studios want to recreate that success by making the sequel a slightly altered copy of the original, but according to Gal Gadot and Kristen Wiig, Wonder Woman 1984 doesn't feel like a sequel.
With Wonder Woman 1984 ready to release later this year, Gal Gadot and Kirsten Wiig have spoken with Total Film to discuss the new sequel. One thing they both want to make clear is that Wonder Woman 1984 is its own thing and makes changes from the first Wonder Woman. Here's what Kristen Wiig had to say:
Wonder Woman 1984 trying to stand out and not be as intimately connected to the original Wonder Woman is bold, but could also be a good thing. Especially considering these choices are all intentional. When approaching the sequel, director Patty Jenkins wanted it to feel like its own movie, rather than a rehash of Diana Prince's previous adventure.
Earlier this year, Wonder Woman 1984 producer Charles Roven reiterated this message that Wonder Woman 1984 stands on its own, confirming that Patty Jenkins wanted it to be the next iteration, rather than a sequel. With this consistent message coming throughout this process, I'm starting to wonder if this new movie could be so different that it might surprise audiences when it comes out.
Wonder Woman 1984 is different not just in tone, but also character. Since this movie takes a big leap in the timeline, Diane Prince's character development since the first movie has evolved. Gal Gadot adds later:
As anyone could likely guess, Wonder Woman 1984 is set the '80s, six decades after the events of Wonder Woman. So, Diana Prince has gained quite a bit of experience since then. When asked why she wanted to put Wonder Woman in the '80s instead of modern day, Patty Jenkins said she wanted Wonder Woman to collide with the height of western civilization and our modern belief system.
Due to current events, Wonder Woman 1984 has been hit with a number of delays and release date changes. It was originally slated to hit theaters on August 14, but that date has been moved to October 2, 2020. Hopefully, that'll be the last time it moves the date.
Your Daily Blend of Entertainment News
Thank you for signing up to CinemaBlend. You will receive a verification email shortly.
There was a problem. Please refresh the page and try again.