Ben Stiller Pays Loving Tribute After His Tropic Thunder, Longtime Partner Stuart Cornfeld Dies At 67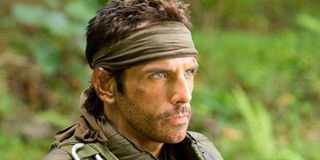 Ben Stiller's longtime producing partner Stuart Cornfeld, who helped him produce projects like Tropic Thunder, has died at the age of 67. Ben Stiller recently paid tribute to his friend Stuart Cornfeld, saying the world will be less better without him. After all, he's had a long career in the film industry and contributed to a number of iconic projects.
Ben Stiller posted on social media that friend Stuart Cornfeld was "funny, smart, talented and cool as a person gets." Stuart Cornfeld loved movies and therefore the late producer's friend Stiller encouraged everyone to go IMDd him to see what he had created throughout his career. You can check out Ben Stiller's full statement below.
According to IMDb, Stuart Cornfeld, indeed, had a long and successful producing career. From early acclaimed 80s films like The Elephant Man and The Fly to Ben Stiller's hilarious comedies like Zoolander and Dodgeball, Stuart Cornfeld had a major hand in developing all of them.
Of course, Ben Stiller and Stuart Cornfeld were notable partners on the comedy Tropic Thunder, bringing characters like Tom Cruise's Les Grossman to life. At one time, Ben Stiller and Stuart Cornfeld even secured the rights to Les Grossman spin-off. Though, as of today, there hasn't been much news on that front.
After Ben Stiller posted his tribute on social media, a bunch of other celebrities responded, sharing their heart-felt condolences and their own experiences with Stuart Cornfeld. Paul Scheer, a comedian that recently acted as a judge on Netflix's Nailed It, said Stuart Cornfeld was one of the funniest guys he's ever met. Check it out:
Seth Green, who made a blink-and-you'll-miss-it cameo in Shazam!, said Stuart Cornfeld was a brilliant gentleman and taught him a lot about producing and work ethic. Check it out:
While he's primarily known for being a producer, Stuart Cornfeld also acted in smaller roles in movies like Fast Times at Ridgemont High, Old School, and The Secret Life of Walter Mitty. Fans of Fast Times will recognize Stuart Cornfeld as the "Pirate King" at Captain Hook's Fish and Chips.
It's an understatement to say Ben Stiller has experienced a lot of loss this year. On top of losing his good friend and producing partner Stuart Cornfeld, he also recently lost his father and fellow actor and comedian Jerry Stiller. Jerry Stiller died at the age of 92 and left behind an impressive legacy in Hollywood, appearing in many hit comedies, like Seinfeld and Zoolander.
Ben Stiller also paid tribute to his father after his passing, saying he was a great dad and grandfather and a dedicated husband to his wife Anne for 62 years. Afterward, Ben Stiller received an outpouring of support from the community with many celebrities also giving their condolences.
Stuart Cornfeld is survived by his ex-wife, Johanna Went, and sisters Lois and Ellen.
Your Daily Blend of Entertainment News
Thank you for signing up to CinemaBlend. You will receive a verification email shortly.
There was a problem. Please refresh the page and try again.