Tom Cruise Will Star In A Les Grossman Biopic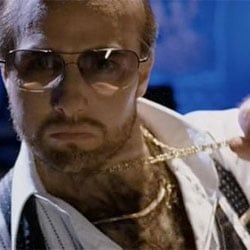 Tom Cruise hinted that it might be happening after his dance-tastic performance at the MTV Movie Awards, and now it's a reality. Les Grossman, Cruise's bald, hairy, foul-mouthed, studio executive character from Tropic Thunder will get his own movie.
Paramount announced Grossman's impending arrival just moments ago and it's impossible to believe that Cruise's spectacularly successful MTV performance didn't have at least some hand in fast tracking the project. According to Paramount's press release, "Tom Cruise, along with Ben Stiller and Stuart Cornfeld of Red Hour Films will produce and have secured the life rights to Grossman." Hilarious.
No word yet on who will direct but Michael Bacall will write it. Here's the complete, unusually funny press release from Paramount:
Your Daily Blend of Entertainment News
Thank you for signing up to CinemaBlend. You will receive a verification email shortly.
There was a problem. Please refresh the page and try again.