Charlie Chaplin: 7 Things You Might Not Know About The Filmmaker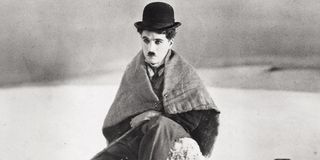 Even those who have never seen a single silent film their entire lives know who Charlie Chaplin is. The writer, director, producer, composer, and actor was one of the first to be given the movie star label and is still regarded these days as one of the most talented and highly influential artists of Hollywood legend.
From his highly energetic physicality, daring on-camera stunts, and penchant for bold satire (none of which came without their consequences), Charlie Chaplin is key to shaping the comedy genre to its definitive state. The many on-screen portrayals of "The Tramp," his most iconic character that bears the appearances he is most often recognized for, inspired the likes of Rowan Atkinson (Mr. Bean), Michael Richards (Kramer from Seinfeld), and even Jackie Chan, whose signature combination of kung-fu with slapstick is clearly Chaplinesque.
Unless you have seen the 1992 biopic Chaplin starring Robert Downey Jr. in an Academy Award-nominated performance in the title role, there may still be much you do not know, or even incorrectly assume you know, about Charlie Chaplin, such as his alleged loss in a competition to impersonate himself. As intriguing as that story is, there is not enough evidence to support it as fact, but the following seven equally, if not more, fascinating things about the multi-talented Oscar winner are, indeed true.
Charlie Chaplin's LA House Was Built By Movie Studio Carpenters
As the wearer of multiple hats for many of his most notable productions (including, but certainly not limited to, writing, directing, and acting), you could say that Charlie Chaplin lived on a film set. This is actually true in more than one way as, in addition to photographic evidence of him sleeping in studios, the filmmaker's Los Angeles estate during the 1930s-40s was constructed by laborers who specialized in building sets for Hollywood. It is that, as a result, the house was prone to frequent repairs, earning the nickname the "Breakaway House" as Chaplin called it.
Charlie Chaplin's First Child Died Three Days After Birth
Outside of his films, Charlie Chaplin legacy will continue to live on by his extensive family tree. Through his four marriages, the actor fathered a total of 11 children, the first of which with then wife Mildred Harris, however, led a tragic story. On July 10, 1919, three days after he was born, Norman Spencer Chaplin passed away due to severe defects and was buried in Inglewood Cemetery where his tombstone reads "The Little Mouse."
Charlie Chaplin Was Once Targeted By Japanese Assassins
Tragedy was actually a surprisingly frequent occurrence for the comedic actor who had several brushes with death, including his famous stunt work, like in The Gold Rush, or the time he was unwittingly involved in a botched assassination plot during his 1932 visit to Japan. Lt. Seishi Koga, who headed the operation to overthrow the Japanese government by killing its prime minister, who was with Chaplin at the time, claimed in court that also taking out the beloved film star, "would cause a war with America, and thus we could kill two birds with a single stone." The actor would later comment on the near-incident in his memoir, imagining how disappointed they would be to learn he was born in London.
A Conversation With Gandhi Inspired Charlie Chaplin To Make Modern Times
One of Charlie Chaplin's most revered creations is Modern Times, which has sustained relevance decades later for its enduring satirization of the industrial revolution seen through the eyes of a down-on-his-luck former factory worker. The classic might not have been made, however, without inspiration from one of history's most inspirational figures, Mohandas Gandhi, who Chaplin sought to meet five years earlier. When their conversation switched gears (no pun intended) to the Mahatma's aversion of machinery as a dominant manufacturing method for its "dehumanizing effect," it sparked an idea within the comedian to make a film commenting on said topic.
Modern Times Was Originally Intended As Charlie Chaplin's First "Talkie"
In addition to its socioeconomic commentary, Modern Times also serves as a reflection of the evolving movie industry as, by the time of its 1936 release, the silent era had just about seen its end since The Jazz Singer introduced sound to the medium in 1927. In fact, Charlie Chaplin had plans to make it his first talking picture before deciding that "The Tramp," a character defined by physicality, belonged in silent film. Certain elements of a "talkie" were implemented into the movie, such as mechanical sounds for factory scenes, Chaplin's own original score, and a song he famously performs entirely in gibberish.
Charlie Chaplin Was One Of Many Hollywood Artists To Be Blacklisted
For its critique of capitalism and technology, Modern Times made Charlie Chaplin a subject of controversy, and even more so in 1940 for what is clearly a satire of Adolf Hitler in The Great Dictator. Eight years later, the filmmaker became a victim of McCarthyist paranoia and was placed on FBI's blacklist of supposed communist sympathizers, barring him work in Hollywood and forcing him to avoid arrest if seen in America after leaving for a British holiday in 1952. He then proclaimed that he would not return "even if Jesus Christ were president," but in 1972, long after his name was cleared, he did come back to the States to accept his honorary Academy Award.
Grave Robbers Stole Charlie Chaplin's Body For Ransom
Five years after receiving that Oscar, on Christmas Day of 1977 in his Swiss home, Charlie Chaplin passed away at 88 after suffering a stroke in his sleep. Four months later, his body went missing and the thieves responsible phoned authorities soon after with monetary demands, which proved unsuccessful with Chaplin's widow, Oona, refusing to pay and their desperation eventually getting them caught via phone tapping. Chaplin, whom Oona claimed would have found the ordeal "rather ridiculous," was then returned to his original gravesite by Lake Genera, but recoated in concrete per the family's request in order to prevent a repeat of such matters.
Be sure to check back for additional information and updates related to one the silent film era's greatest personalities, as well as even more in-depth looks into the lives of your favorite celebrities, here on CinemaBlend.
Your Daily Blend of Entertainment News
Jason has been writing since he was able to pick up a washable marker, with which he wrote his debut illustrated children's story, later transitioning to a short-lived comic book series and (very) amateur filmmaking before finally settling on pursuing a career in writing about movies in lieu of making them. Look for his name in just about any article related to Batman.