What George Miller Thinks Happened After The Ending Of Mad Max: Fury Road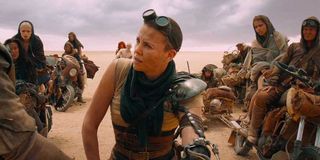 While Mad Max: Fury Road is a post-apocalyptic, thrill ride, it also served as a cautionary tale about the dangers of despots running loose when resources are low. The themes George Miller explores in the film may feel relevant to some -- and it's clear he thought very hard about what he wanted to say with the Mad Max franchise when he revived it for a 21st century audience. It turns out he's also thought a lot about the things we didn't see on screen -- namely, what happened to Furiosa and the rest of the characters after the movie ends.
Despite how bleak much of Mad Max: Fury Road is, when the credits roll, there's a sense of hope. After Max and Furiosa battle their way through the barren landscape, they manage to take down the Immortan Joe. George Miller recently admitted that he's given careful consideration to what he thinks comes next:
George Miller admitted to Josh Horowitz for Metaverse, though, that both storytelling and human nature make it a little more complicated for the Mad Max: Fury Road crew to enjoy a happily ever after:
Despite the dangers that face the characters though, George Miller does believe there's hope for Charlize Theron's Furiosa to avoid the same fate as the villains that came before her:
It's interesting to hear George Miller's take on how the world Mad Max and Furiosa inhabit would fare after the Immortan Joe was defeated. Especially because Charlize Theron herself recently admitted she sees a lot of parallels between Mad Max: Fury Road and some of the unique challenges we've faced during the COVID-19 pandemic.
However, Charlize Theron likely won't be joining forces with George Miller to explore Furiosa's future. The director has turned his attention toward a Furiosa prequel -- which means we'll get to see more of the heroine, but sadly (and controversially) without Charlize Theron playing her.
What do you think would happen to Max and Furiosa next? Would you want to see a continuation of their story? Let us know in the comments!
Your Daily Blend of Entertainment News
Your Daily Blend of Entertainment News
Thank you for signing up to CinemaBlend. You will receive a verification email shortly.
There was a problem. Please refresh the page and try again.