Mad Max: Fury Road's Zoe Kravitz Shares Blunt Thoughts On Furiosa Being Recast For The Prequel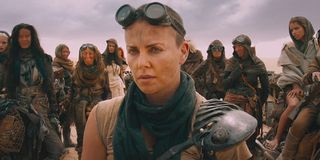 Mad Max: Fury Road's Furiosa, played by Charlize Theron, is a massively popular character. And that hasn't been lost on director George Miller. Recent reports reveal he's working on a Furiosa prequel. But, since a prequel with Charlize Theron could be problematic, he's opted to recast with a younger actor. And now Fury Road actress, Zoë Kravitz has shared her thoughts on the shake up.
Zoë Kravitz played Toast the Knowing, one of the five wives, in Mad Max: Fury Road. While she's currently working on Matt Reeves The Batman, Kravitz shy regarding her thoughts on the Mad Max franchise. Recently, she came on the Happy Sad Confused podcast (opens in new tab) to talk about her love for The American President movie, but eventually spoke a bit about what she thinks of Furiosa being recast. Here's what she had to say:
Wise words. It's best to just trust George Miller's creative instincts, considering the critical and box office success of Mad Max: Fury Road. Of course, while filming, Zoë Kravitz, Charlize Theron, Tom Hardy and the rest of the cast and crew probably had a different perspective. At the time, they were put in a grueling environment for six months and were constantly confused since there was no script, just storyboards.
While in the past George Miller has said he has two more Mad Max sequels in his head, it seems like now all the attention has refocused on the Furiosa prequel, instead. Charlize Theron said she'd be interested in returning for a prequel and George Miller even considered using de-aging special effects to bring her back, but that idea has since been dropped.
While some reports pointed at Jodie Corner and Richard Madden to star in the Furiosa prequel, other indicate that George Miller might also be eyeing actress Anya Taylor-Joy to potentially play the lead, Furiosa. While we don't know if she's been cast, supposedly George Miller held her audition over Skype during the lock down. Anya Taylor-Joy would seemingly be a great casting choice. She's turned quite a few heads for her performances in The Witch, M. Night Shyamalan's Split and Glass, and Emma.
Further details about the Furiosa prequel are sparse at this point. Hopefully we'll hear more as production develop. And, as always, we'll keep you up-to-date on the latest Mad Max and Furiosa prequel news.
Your Daily Blend of Entertainment News
Thank you for signing up to CinemaBlend. You will receive a verification email shortly.
There was a problem. Please refresh the page and try again.