Zack Snyder's Seen Wonder Woman 1984, And Shared His Thoughts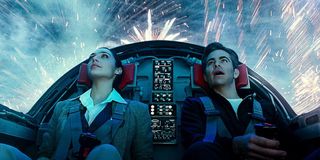 As many know by now, Zack Snyder's been busy working on his version of Justice League. But that doesn't seem to be holding him back from getting a chance to see superhero movies before everyone else, including the much anticipated Wonder Woman 1984. And, you better believe he shared his thoughts on the movie.
Zack Snyder set Wonder Woman's first appearance in the DCEU in motion when Gal Gadot portrayed her in Batman v Superman: Dawn of Justice. So he knows a thing or two about the character. During a DC FanDome panel, he shared a few of his thoughts after watching Wonder Woman 1984, check it out:
Considering Wonder Woman 1984 technically should have been released by now and has seen several delays, I think it's safe to say fans can't wait to see Gal Gadot in Wonder Woman 1984, too. Besides projects like Mulan and Black Widow, Wonder Woman 1984 is easily one of the most anticipated movies of 2020.
While most of what we knew about Wonder Woman 1984 was slim, over the past year, things have come to light, helping form a fuller picture of what Diana Prince will be up against in the sequel. Unlike Wonder Woman which was set during World War I, the sequel will follow Diana Prince in the '80s, before the events of Batman v Superman: Dawn of Justice.
Since going from World War I to the 80s is a big leap in time, you can rest assured that Wonder Woman 1984 will address what she's been up to during all of that time. As one can imagine, it sounds like most of that will include returning to "Man's World" to fight injustice.
It's with the advent of DC FanDome that we've gotten the clearest picture yet of Wonder Woman 1984, especially with the revelation of Kristen Wiig's Cheetah. Before, we only got to see Kristen Wiig before her transformation into the villainous feline. But with the latest trailer, we got to see her full-form going against Wonder Woman.
Fans eager to see Wonder Woman 1984 will have to wait a little longer. The movie is set to release on October 2, 2020 with a runtime of 151 minutes. And if what Zack Snyder says is true and the film is amazing, then I bet Wonder Woman fans will wish the movie was much longer. For more movie news, stay tuned to CinemaBlend.