Black Panther Producer Reflects On One Of Chadwick Boseman's Final Acts Of Kindness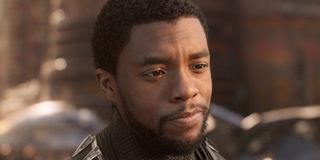 In the days since Chadwick Boseman's death, countless stories and commemorations from his friends and colleagues have poured in. Many are eager to remember his commitment to his work and frequent acts of kindness. That includes one of Black Panther's producers, who has shared a touching story about the lengths the actor was willing to go to when trying to fulfill an ailing child's wish.
Nate Moore, one of Black Panther's executive producers, said that his last interactions with Chadwick Boseman were mostly centered on fulfilling a request from the Make-A-Wish Foundation. He said that given the current pandemic situation, it was a logistically difficult task. In retrospect, he was struck by how diligent the actor was, despite the unique challenges they faced:
Nate Moore also told People that Chadwick Boseman sent him a "final text message" and, while he did not elaborate on what it entailed, he did share that it was deeply meaningful to him:
That sentiment feels especially meaningful in the wake of Chadwick Boseman's death -- and that fact is not lost on Nate Moore. However, he wants fans to know that he doesn't believe the actor's battle with colon cancer is the only reason he was so eager to help others who struggled with illness:
This should come as no surprise to fans, who know that the actor routinely went out of his way to connect with Black Panther fans and help them enjoy both the film and his character -- he even bought out a screening of the film so children could see it.
Since Chadwick Boseman's death, we've learned that he remained committed to his career, even while privately battling cancer. He completed several projects while sick, including his final film, Netflix's Ma Rainey's Black Bottom. So it's no surprise that he was equally passionate about using his platform to do as much good as he could.
Your Daily Blend of Entertainment News
Thank you for signing up to CinemaBlend. You will receive a verification email shortly.
There was a problem. Please refresh the page and try again.