Snyder Cut Reshoots: Michael Shannon Addresses The Chatter About Possibly Playing Zod Again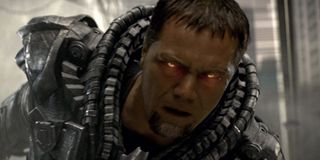 Michael Shannon's Zod was infamously killed by Superman in Man of Steel. In the world of superheroes though, characters rarely stay dead for long. So with more scenes being filmed for Zack Snyder's Justice League, many have wondered if Zod could return with Michael Shannon playing him again in the Snyder Cut. Now, Michael Shannon has responded.
It's been roughly seven years since Michael Shannon played Zod in Man of Steel. His ruthless and tough-as-nails performance has stuck with DC fans, with some perhaps wishing he hadn't met his ultimate fate. Now that Zack Snyder is working on additional filming for his version of Justice League, is it be possible that Michael Shannon could return? The actor recently gave Comicbook.com a concrete answer on the subject:
That about settles the issue. His character is dead and likely won't be making a return in Zack Snyder's Justice League. That said, considering that DC might toy with alternate realities in the new Flashpoint movie, Zod making a return at some point isn't exactly permanently off the table, is it? This DC fan can only hope.
Despite not being part of Zack Snyder's Justice League, it sounds like Michael Shannon is glad Zack Snyder gets the chance to finish what he started. Earlier this summer, he had kind words for Zack Snyder, saying:
Part of the reason fans wondered if Michael Shannon would be coming back is due to the enormous amount of past stars making their return for the Snyder Cut, including Ben Affleck's Batman, Henry Cavill's Superman, Gal Gadot's Wonder Woman, and even Jared Leto's Joker. The additional filming with these actors don't sound extensive and will reportedly only take a week. It's unclear if Ezra Miller or Jason Momoa will be returning.
This isn't the only time fans have wondered if Michael Shannon would return as Zod. With the prospect of a Supergirl movie being developed by Warner Bros., Michael Shannon was asked if he'd be interested in coming back to play Zod for that, too. He shared his doubts about coming back, primarily because of his age, but said he'd have to look into it.
Michael Shannon left quite an impression as Zod in Man of Steel, but his return as the character seems to be cast in doubt. But what do you think? Should Michael Shannon return to the DCEU as Zod? Let us know in the comments!
Your Daily Blend of Entertainment News
Thank you for signing up to CinemaBlend. You will receive a verification email shortly.
There was a problem. Please refresh the page and try again.