Why Man Of Steel's Michael Shannon Feels For Zack Snyder Ahead Of Snyder Cut Release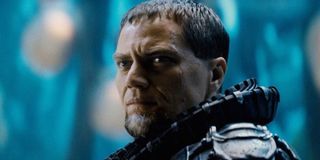 There's a lot that's still up in the air with regard to the Snyder Cut. While we know it's finally happening, it will be a while before we know what the finished product looks like. That's undoubtedly a lot of pressure on Zack Snyder, on top of the other obstacles he's faced so far with Justice League -- and his friend Michael Shannon has expressed sympathy for him for that very reason.
While Michael Shannon himself was not in Justice League, he did star as General Zod in both Man of Steel and Batman v. Superman: Dawn of Justice, which Zack Snyder also directed. During that time, he clearly formed a strong relationship with the director -- he recently told Car Con Carne host James Van Osdol that he had a good experience filming Man of Steel, and when he was asked what he thought about the upcoming release of the Snyder Cut, he offered a more personal take on the situation:
Zack Snyder had to leave the set of Justice League following the sudden death of his daughter and later battled with Warner Bros. over creative control of the original final cut. When fans were underwhelmed by the theatrical release, they pointed to both of these concerns as evidence for why a Snyder Cut was needed.
So it's understandable why Michael Shannon would also reflect on those matters when thinking about what the Snyder Cut could mean for the director. In the weeks since HBO Max announced it would air what is now being called Zack Snyder's Justice League, there's been a lot of discussion about what the successful fan campaign could mean for the future of Hollywood releases. Some worry it gives fans too much power over a director's artistic expression. Others are wondering whether other films could be given a similar treatment -- and whether that's a good idea or not.
Despite the potential future implications, there's a lot to be excited about in the present -- not only for Zack Snyder, who is grateful for the opportunity to share his vision, but for fans who have waited so long. HBO Max is reportedly forking over $30 million to help the director get the film ready to share, and we've already gotten some insights into what we can expect to see, including the answers to lingering questions. We've even had a glimpse of the first Snyder Cut footage, and there will surely be more teasers in the weeks to come.
Zack Snyder's Justice League will be available to stream on HBO Max at some point in 2021.
Your Daily Blend of Entertainment News