Uncle Frank Cast: Where You've Seen The Amazon Prime Movie Stars Before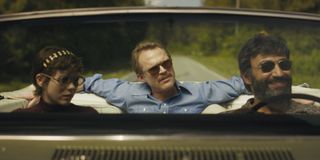 Alan Ball's Uncle Frank, the latest original film to hit Amazon Prime Video, features an outrageously talented cast full of recognizable faces… but many of them are also stars that the average viewer might not be able to specifically name directly off the top of their head. Audiences likely recognize Paul Bettany, but others might have you saying, "I know them, they were in that thing," while drawing circles in the air trying to think.
It's in aid of that particular process that we are here to help. Rather than scramble around the internet and sift through full resumes, we've put together this feature to highlight the best known works of the Uncle Frank cast. There are a lot of names to discuss, so let's dig in!
Paul Bettany (Frank Bledsoe)
There's a pretty good chance that you already know who Paul Bettany is and probably isn't the reason you're checking out this article, but just in case you're not entirely familiar with his resume we'll clue you in. In Uncle Frank he plays the titular character, a gay man who hides his sexual identity from his conservative family, and it's the smallest movie he's done in a few years given that he's been busy playing the android Vision in the Marvel Cinematic Universe and the villainous Dryden Vos in Solo: A Star Wars Story. He first caught the attention of audiences back in 2001 with his performances in A Knights Tale and A Beautiful Mind, and has starred in other major features including Master And Commander: The Far Side Of The World, Wimbledon, and The Da Vinci Code.
Sophia Lillis (Beth Bledsoe)
At 18 years old, Sophia Lillis is one of the brightest up-and-coming stars in Hollywood, capturing a great deal of attention for her fantastic turn as Beverly Marsh in the adaptation of Stephen King's IT. Shortly after that she played the younger version of Amy Adams' character in the HBO miniseries Sharp Objects. Earlier this year Sophia Lillis starred as the titular female lead in the horrific big screen fairy tale Gretel & Hansel, and reunited with her IT co-star Wyatt Oleff for the excellent Netflix series I Am Not Okay With This. As you might have noticed, Lillis has developed a habit of doing period pieces, and Uncle Frank continues that trend, featuring her as a young woman growing up in 1973 who admires her Uncle Frank and becomes a conduit for his journey to come out to his family.
Steve Zahn (Mike Bledsoe)
Steve Zahn plays the father of Sophia Lillis' Beth in Uncle Frank, and is a wonderful addition to the cast because… well, he's Steve Zahn. A great comedic character actor who always brings a special and specific energy to his roles, Zahn has been on cinephiles' radar since 1994's Reality Bites, and has scene-stealing turns in films like That Thing You Do!, Out Of Sight, and Riding In Cars With Boys. In 2017 he played the lovable Bad Ape in War For The Planet Of The Apes, and has been most active on the small screen, starring in shows and miniseries such as ABC's The Crossing and Showtime's The Good Lord Bird.
Judy Greer (Kitty Bledsoe)
Like Paul Bettany, Judy Greer (who play's Beth's mother in Uncle Frank) is another member of the Marvel Cinematic Universe family, as she plays Scott Lang's ex-wife Maggie in the Ant-Man movies, but that's just one of many, many things that's earned her acclaim and fans. Early in her career she was known for her supporting roles in romantic comedies such as The Wedding Planner, 13 Going On 30, and 27 Dresses, and she has had numerous parts in fan-favorite television shows including Two And A Half Men, It's Always Sunny In Philadelphia, and Arrested Development. In addition to her MCU work, her franchise resume also includes Jurassic World, the last two Planet Of The Apes movies, and 2018's Halloween. Since 2009 she has also voiced the psychotic Cheryl Tunt on the animated series Archer.
Margo Martindale (Mammaw Bledsoe)
In Uncle Frank, Margo Martindale plays the matriarch of the Bledsoe clan, and it's really a perfect choice given that few are better at playing southern maternal figures. Hell, it was just a few years ago that she won an Emmy for her season-long turn as Mags Bennett on the FX series Justified. If you don't know her from that, her face may be familiar because you're a fan of The Good Wife/The Good Fight or The Americans. Her extensive big screen career also goes back to the late 1980s, and includes greats like The Rocketeer, The Firm, Million Dollar Baby, and Walk Hard: The Dewey Cox Story.
Stephen Root (Daddy Mac)
If you were to show a movie fan a picture of Stephen Root and ask where they know him from, you'd probably get 100 different answers, as the guy is everywhere an excellent in everything. His most iconic role is probably as the nerdy firebug Milton Waddams in Office Space, but he's also a go-to guy for the Coen brothers (with roles in No Country For Old Men, O Brother Where Art Thou, The Ballad Of Buster Scruggs, and The Lady Killers), and has a number of memorable performances in films like Dodgeball, Selma, and Get Out. He's recently earned terrific acclaim and an Emmy nomination for his work on the HBO series Barry, and if his voice sounds familiar you might just be a King Of The Hill fan, as he voiced William Fontaine de La Tour "Bill" Dauterive for 13 years.
Lois Smith (Aunt Butch)
In a cast full of veteran stars, Lois Smith's goes back the furthest, as she made her professional acting career in an episode of the serial Love of Life in 1951. Fans of Alan Ball's work probably recognize her as Adele Stackhouse from True Blood, but her filmography is loaded with notable titles, including Twister, Fried Green Tomatoes, Midnight Run, Minority Report, The Nice Guys, and Lady Bird. Her most recent work has been on the small screen, playing a recurring role on the series Ray Donovan.
Peter Macdissi (Wally)
Peter Macdissi plays Frank's secret long-term boyfriend in Uncle Frank, and like Lois Smith he is another Alan Ball veteran, having not only starred in three episodes of True Blood's fourth season, but also his 2018 show Here And Now. He's probably best known for playing Olivier Castro-Staal on the award-winning HBO series Six Feet Under, but his credits also include David O. Russell's incredible Desert Storm-set war film Three Kings.
Uncle Frank is now streaming on Amazon Prime.