James Cameron Shares Another Epic Avatar 2 Set Photo As Filming Wraps For The Year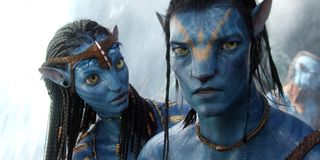 The Avatar sequels are among some of the most anticipated films to hit theaters within the next several years, and director James Cameron and his team have been working hard to develop the next chapters in the story. The crew has been working hard on Avatar 2 and its sequels during 2020 and, along the way, they've been sharing some cool behind-the-scenes photos. So it was only fitting that Cameron marked the last shooting day of the year with some cool snapshots that highlighted some of the technology that's being used.
The images that Avatar 2 director James Cameron shared (courtesy of Jon Landau) showcase The Matador, a giant forward command boat. He also gave fans a peak at some of the technocranes the production is using. Check out the Twitter images for yourself down below:
If there's anything we know for sure about James Cameron it's that he loves his technological toys, and he's definitely been going all out for these Avatar installments. It's honestly difficult to gauge exactly how the tech is being used to serve the story, but it's still cool to see.
Aside from the technology, a number of other amazing sights have been revealed through set photos. One aspect of this is the extensive underwater filming that's taken place. This has included snapshots of cast members like Sigourney Weaver and Kate Winslet, who have both found themselves working in pools for portions of the shoot. Winslet has even opened up about performing the scenes, calling them intense but also expressing pride in being able to perform them.
Bluescreen has been heavily present in a number of the released set photos, but some have revealed predominantly practical environments for the film. This includes a Pandora base, in which James Cameron could be seen casually hanging out. We've even gotten a few good shots of some human characters participating in gun fights.
Avatar 2 will return audiences to Pandora and picks up 13 years after the events of the original film. Jake Sully and Neytiri, who now have a family, are doing what they can to keep their brood together, though they find themselves in a tough spot when an old threat returns. With this, they must leave their homes and end up exploring new parts of Pandora in the process. While we don't have any specifics on the new places they'll be seeing, the onslaught of set photos seem to indicate that there could be quite a few.
It's nice to see the Avatar sequels are still moving right along following the production setbacks they experienced earlier this year. We still have a while before we can check out for the first of the sequels, but these set photos have been great for tiding fans over in the meantime.
Avatar 2 is set to hit theaters on December 16, 2022.
Covering superheroes, sci-fi, comedy, and almost anything else in film and TV. I eat more pizza than the Teenage Mutant Ninja Turtles.
Your Daily Blend of Entertainment News
Thank you for signing up to CinemaBlend. You will receive a verification email shortly.
There was a problem. Please refresh the page and try again.