Avatar 2 Image Reveals First Glimpse At Edie Falco's Character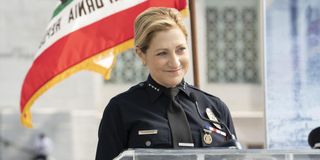 When the James Cameron-shepherded Avatar franchise finally returns to the big screen in a little over two years (assuming there aren't any more delays), naturally moviegoers will meet a lot of new characters alongside the familiar ones who debuted in the first Avatar movie over a decade ago. Among the lineup of fresh faces is Edie Falco, and we finally know how the Nurse Jackie actress fits into the Avatar 2 picture.
As you'll see in the photo below, rather than playing one of Pandora's natives, Edie Falco is starring as a human leading a familiar organization from Avatar. Take a look:
In case it's been a long time since you last saw Avatar, RDA stands for Resources Development Administration. This was the organization that traveled to Pandora to mine unobtanium, a rare mineral that was being shipped back to Earth, which was dealing with a severe energy crisis. During Avatar, Stephen Lang's Colonel Miles Quaritch was leading the RDA's mining operation on Pandora, but his command ended when he was killed by Neytiri during the Na'vi's battle against the RDA.
We've known for a while that Miles Quartich will somehow return to the fold in Avatar 2 and serve as the main antagonist in all four of the upcoming Avatar movies, but as far as the RDA goes, Edie Falco's General Ardmore has succeeded him as the leader of the organization's efforts on Pandora over a decade later. The Na'vi made it clear that the RDA was no longer welcome on Pandora at the end of Avatar, but evidently once the events of Avatar 2 unfold, the group is back to crash the party.
Granted, it's possible that General Ardmore might be a more sympathetic character compared to Miles Quaritch, but it'd also be logical to assume that the RDA will continue to be a disruptive force on Pandora rather than actively aid its inhabitants. Unless Earth has reversed its energy crisis, the planet is still lacking in natural resources, so the RDA would understandably be desperate enough to return to Pandora to snag more unobtanium, and this time pack even more firepower.
While it's nice to finally know who Edie Falco is playing in Avatar 2, no other details about General Ardmore have been revealed, although she will be back for Avatar 3. Among the other new actors who will appear alongside Falco in the sequel include Kate Winslet, Michelle Yeoh, Jermaine Clement and Vin Diesel. The lineup of familiar folks who are returning for Avatar 2 alongside Stephen Lang include Sam Worthington, Zoe Saldana, CCH Pounder, Giovanni Ribisi and Sigourney Weaver.
Avatar 2 is currently slated to drop in theaters on December 16, 2022, and the following three Avatar movies will respectively be released in 2024, 2026 and 2028. Find out what movies are hitting the big screen a little sooner with our 2021 release schedule.
Your Daily Blend of Entertainment News
Connoisseur of Marvel, DC, Star Wars, John Wick, MonsterVerse and Doctor Who lore. He's aware he looks like Harry Potter and Clark Kent.
Your Daily Blend of Entertainment News
Thank you for signing up to CinemaBlend. You will receive a verification email shortly.
There was a problem. Please refresh the page and try again.