Latest Avatar 2 Set Photo Reveals Key Setting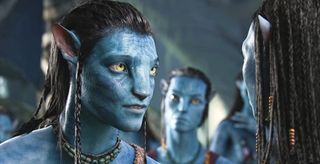 CinemaBlend participates in affiliate programs with various companies. We may earn a commission when you click on or make purchases via links.
Avatar 2 has long been in development, trying the patience of all the Avatar fans out there. But with each update, it feels like we're getting closer and closer to finally getting to see the movie. This time, we just got another photo of an Avatar 2 setting, and it looks important.
James Cameron and the filmmakers behind Avatar 2 have been hard at work in New Zealand, filming not just Avatar 2, but Avatar 3 as well. Producer Jon Landau has provided updates on production through his social media, and just recently dropped a sneak peek of a key Avatar 2 sets. Check it out:
Wow, that's one sleek looking set. At first glance, it looks like just another lab set, similar to what we saw on the first Avatar. But what Jon Landau says is really more enlightening about this lab. Not only does he call it "key," meaning it'll be integral to the plot of the story, but it's also a new installation for RDA (Resources Development Administration) called "Bridgehead."
It's no secret that at the end of Avatar, the RDA and all the humans were sent packing. But, with Avatar 2, the humans are clearly back for more and they've set up camp again to do research. Humans can't help themselves but cause trouble on Pandora.
Avatar fans can re-watch the original movie over on Disney+. You can use this link to sign up for the streaming service.
Another thing to take note of is the name of the lab installation. It could mean anything, of course, but with "bridge" in the title, I get the feeling it might be a lab above or below the water. We've known for some time that Avatar 2 will primarily take place underwater. Producer Jon Landau has provided some epic underwater photos in the past. So it wouldn't be too big of a surprise if the Bridgehead installation was an aquatic lab of some sort.
We've got photos of other lab sets in the past, as well. Back in August, the official Avatar Twitter account posted photos of James Cameron standing in the "High Camp Bio Lab" with an additional wide shot photo of the lab. But this lab looks different; it's not as sleek and a bit messier. It's hard to say who this lab belongs to, whether it's the RDA or another organization.
Along with labs, Avatar 2 will include a pretty awesome looking underwater submarine called "The Crabsuit" that can transform from a submarine into a land operated vehicle that, you guessed it, looks like a crab. No doubt it's going to cause more trouble for Jake Sully and the Na'vi. At least until they get reinforcements in the form of new characters.
The good news for Avatar fans is that they've finished filming Avatar 2, but it's not expected to release in theaters until December 16, 2022. Until then, be sure to stay tuned to CinemaBlend for the latest.
Your Daily Blend of Entertainment News
Your Daily Blend of Entertainment News
Thank you for signing up to CinemaBlend. You will receive a verification email shortly.
There was a problem. Please refresh the page and try again.