What George Clooney Learned From His Batman And Robin Experience After The Film Was A 'Big Bomb'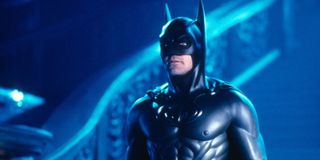 George Clooney has really never been shy about his real feelings regarding Batman & Robin. The actor's foray into superhero stardom was short-lived, for numerous reasons. In the more than 20 years since the movie hit (and bombed in) theaters, he's gone on record regarding the experience and why he'd never repeat it again. Now he's revealed the big lessons he learned from the Batman & Robin experience.
Very few people would deny that George Clooney is incredibly talented, both as an actor and as a filmmaker. Still, even the best of the best can make some serious missteps, and that's what happened when he signed on to play Bruce Wayne in Batman & Robin. Both financially and critically, Batman & Robin was a resounding failure. Since its release in 1997, it's more or less became the gold standard for what not to do in a Batman movie. George Clooney told Michelle Pfeiffer during Variety's Actors on Actors that, at the very least, he came away from the film with some valuable insights:
While George Clooney has maintained that a lot of the problem was his performance, he also admitted that in the years since Batman & Robin, he's chosen to focus on screenplays -- even if that doesn't always insure success either:
To be fair, a lot of things have also gone right in George Clooney's post-Batman & Robin films -- he's won Oscars and topped box offices worldwide. So it sounds like the adjustments he made to his process mostly panned out. He's also seemingly put the lessons he learned to good use by trying to counsel other actors to learn from his mistakes -- even if they didn't always listen.
Beyond helping him understand the importance of choosing a good script, George Clooney has admitted he's found one more upside to Batman & Robin: it's one of the few movies he's starred in that he can show his kids, even if it's only to give them a laugh.
Your Daily Blend of Entertainment News
Thank you for signing up to CinemaBlend. You will receive a verification email shortly.
There was a problem. Please refresh the page and try again.