George Clooney Had Some Blunt Advice For Ben Affleck When He Was Thinking About Playing Batman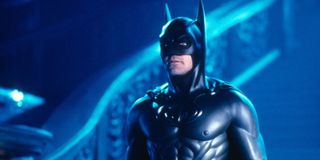 As a Hollywood veteran, George Clooney has learned a thing or two about making the right (and wrong) career moves. That experience has not only made him wiser about his own choices, but it's led his peers to reach out to him when they need career guidance. It seems like he doesn't mince his words, either -- in fact, he had some very blunt advice for Ben Affleck when he was deciding whether he'd play Batman.
After his stint as Bruce Wayne in 1997's universally panned Batman & Robin, George Clooney has been open about the fact that playing Batman wasn't his favorite gig -- a fact he reconfirmed during an appearance on The Howard Stern Show. He also admitted that he advised Ben Affleck not to take the iconic role -- and that he has a unique perspective when it comes to Hollywood highs and lows:
It seems that George Clooney definitely doesn't shy away from imparting wisdom to fellow stars. The actor also told Howard Stern that despite Ben Affleck foregoing his overall career advice, he did still try to steer him in the right direction in terms of some of the finer points of playing the Caped Crusader:
At least on that front, Ben Affleck seems to have taken his advice -- his (nipple-free) Batman suits were decidedly cooler than what George Clooney wore back in the day. While his tenure as Bruce Wayne seems to have come to an end and wasn't without tribulations, it definitely was not the resounding failure of Batman & Robin.
George Clooney also told Howard Stern that when he took on the role, he was in a much different position in Hollywood than he is now. Back then, he wasn't the kind of actor who could get a movie greenlit. According to him, he was just another actor, trying to get another gig. He shared that at the time, Arnold Schwarzenegger was paid way more for his performance as Mr. Freeze, even though George Clooney was playing one of the titular characters in the film.
These days, George Clooney definitely has more control over his career. He also understands the responsibility that comes with being a decision-maker. He alluded to the fact, for instance, that while he sympathized with Tom Cruise's recent frustration regarding COVID-19 safety on the Mission: Impossible 7 set, he would have handled it differently.
Do you think Ben Affleck should have taken George Clooney's advice? Let us know in the comments!
Your Daily Blend of Entertainment News