Black Widow's New Release Date Actually Marks Another MCU Milestone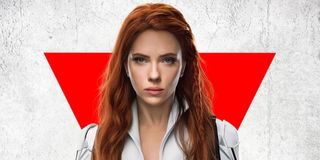 Yesterday marked yet another scheduling change for Black Widow, albeit with an added twist. The next Marvel Cinematic Universe movie will now arrive on July 9, and in addition to its theatrical run, it will also be made available on Disney+'s Premier Access, making this the fourth movie to be given such treatment following Mulan, Raya and the Last Dragon and the upcoming Cruella. But thanks to this date change, we've also now hit another MCU milestone, as July 9 will be the first time that two Marvel Studios-produced projects are coming out on the same day.
While Black Widow won't have any fellow MCU competition in theaters on July 9, it will on Disney+. You see, the Tom Hiddleston-led Loki series premieres on June 11, meaning that its fifth episode also airs on July 9. The Falcon and the Winter Soldier, which premiered last week, is ending its six-episode run on April 23, so had Black Widow stuck to its previous May 7 release date, it would have had the entire month of May to itself. That's no longer the case.
Now before I go further, it's important I clarify what I mean by a Marvel Studios-produced project. You see, there were a few instances when the ABC series Agents of S.H.I.E.L.D. released episodes on the same day as movies like Avengers: Infinity War and Spider-Man: Far From Home (ignoring Thursday night preview screenings). And yes, S.H.I.E.L.D. technically exists within the MCU, although its ties to the movies grew smaller in later season. But in this instance, S.H.I.E.L.D. by the now-defunct Marvel Television banner, meaning Marvel Studios president Kevin Feige had nothing to do with it. Disney+'s exclusive Marvel shows mark the first time Feige has directly supervised small screen offerings for this franchise.
If WandaVision's overall performance and The Falcon and the Winter Soldier's debut episode are any indication, not to mention how popular Tom Hiddleston's Loki is, the Loki series will surely be another huge success for Marvel Studios and Disney+. However, with Black Widow now opening approximately halfway through Loki's run, I can't help wondering if some proverbial cannibalizing is in store. If so many people decide to watch Black Widow on Disney+, does that mean that Loki's fifth episode won't perform as well as its predecessors likely will? Or has the MCU gotten to the point where there can be some friendly competition between two projects on the same day, with both experiencing great success in the long run? Maybe I'm just worrying over nothing.
The point being, if you're an MCU fan, when July 9 rolls around, you'll have to decide whether to watch Black Widow or Loki first, or perhaps save one for its first day of availability and the other for the weekend. And that's assuming you decide to shell out the extra $30 to watch Black Widow on Disney+. No doubt a fair amount of those reading this will choose to watch the movie in a theater, assuming the pandemic has calmed down by then and more multiplexes have reopened their doors.
One thing is abundantly clear: Black Widow and Loki are telling incredibly different stories. Set between the events of Captain America: Civil War and Avengers: Infinity War, Black Widow follows Scarlett Johansson's Natasha Romanoff on the run and forced to confront a dangerous conspiracy connected to her past. This will involve her reuniting with familiar faces like Florence Pugh's Yelena Belova and David Harbour's Red Guardian, as well as clashing with the mysterious Taskmaster.
Meanwhile, Loki follows the alternate timeline Loki we met in Avengers: Endgame, who has been apprehended by the Time Variance Authority and embarks upon various capers throughout human history. The only other confirmed character for the Disney+ series is Owen Wilson's Mobius M. Mobius, though the actors cast in undisclosed roles include Gugu Mbatha-Raw and Richard E. Grant. Like WandaVision, Loki will tie into Doctor Strange in the Multiverse of Madness.
Now that Black Widow will play on both big screens and Disney+ simultaneously, it's a good bet that this will be the last time the movie that was once supposed to come out at the beginning of May 2020 will be pushed back. Should that not be the case though, we'll be sure to let you know. In the meantime, keep track of when the MCU's other will arrive in front of your eyeballs with our upcoming Marvel movies guide and upcoming Marvel TV shows guide.
Connoisseur of Marvel, DC, Star Wars, John Wick, MonsterVerse and Doctor Who lore. He's aware he looks like Harry Potter and Clark Kent.