Wild Gladiator 2 Rumor Is Swirling, But I Actually Kind Of Dig The Idea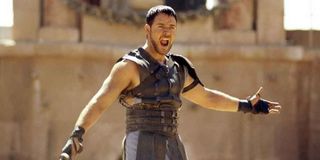 Thor: Love and Thunder continues to add to its already stacked cast including Christian Bale as Gorr the God Butcher and most recently Russell Crowe has been confirmed to be making an appearance in the Taika Waititi production. The Gladiator Russell Crowe joins Thor himself, Chris Hemsworth, on what is poised to be an epic follow-up to 2017's Thor: Ragnarok. Of course, Maximus and Thor meeting up and making a movie together are enough for rumors to start flying. Still, of them, the most interesting rumor may be a Gladiator 2 idea brewing, and yes Hemsworth and Crowe are involved in this rumor.
Chris Hemsworth and Russell Crowe share a lot in common. They are both from the same part of the world (Hemsworth is from Melbourne, Australia, and Crowe is from Wellington, New Zealand). They are both imposing leading men capable of believably portraying characters like Thor and Maximus on the big screen. They even share the fact they typically perform their own stunts. Spending time together on and off the set of Thor: Love and Thunder has apparently led to the rumors of a possible sequel to Gladiator starring Hemsworth as the son of Russell Crowe's iconic gladiator.
In an article from newidea.com, 'sources' close to the actors have remarked on Chris Hemsworth and Russell Crowe's growing bond, giving the impression of a father and son relationship forming between them. They have both been spending time in Sydney, Australia, reportedly filming the next Thor movie. Crowe, who recently paid tribute to his late father, has seemingly taken the opportunity to work on Thor: Love and Thunder as a way to be close to home in such a difficult time.
The idea of a Gladiator sequel is said to have been planted by friends and family after recognizing the resemblance and how close the two actors have become working on Thor 4. Internet rumors are plentiful and are best taken very lightly, but it isn't a stretch to see Chris Hemsworth and Russell Crowe as a father and son in a continuation of the Gladiator story. In fact, it's kind of a fun idea. Given Russell Crowe has touted the idea of Gladiator 2 in the past, this is a pretty creative rumor.
The idea of a Gladiator sequel is exciting but not without problems, mainly the ending of the film. Spoiler: Maximus dies in the end, but the idea isn't a bad one, given anything is possible in Hollywood and Crowe has also revealed how the original ending would have been explained in Gladiator 2. Russell Crowe has trolled fans with the prospect of a sequel before but has always left the door open for a return to his iconic role as Maximus, and who knows, maybe his budding friendship with Chris Hemsworth is the catalyst for the sequel actually to happen?
Russel Crowe's cameo in Thor: Love and Thunder will almost assuredly be great no matter how large or small the part, and linking up with Chris Hemsworth, and Taika Waititi seems to be a formula for success. We might never get a follow-up to Gladiator, but the stars might align one day, and the production of Thor: Love and Thunder might have pushed them in the right direction.
Movie and TV obsessive. A good Heist movie is the way to my heart. Enjoyer of everything from Marvel Movies to Rom-coms.
Your Daily Blend of Entertainment News
Thank you for signing up to CinemaBlend. You will receive a verification email shortly.
There was a problem. Please refresh the page and try again.