Thor: Love And Thunder, An Updated Cast List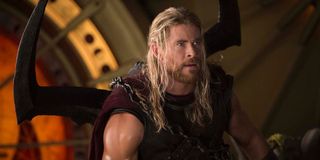 Thor is about to achieve something no other superhero in the Marvel Cinematic Universe has done yet: lead more than three solo movies. Yes, the Avengers film series broke the traditional trilogy mold in this franchise first, but now the God of Thunder is getting to break past that same barrier with the upcoming Thor: Love and Thunder, which was officially announced at San Diego Comic-Con 2019. Thor: Ragnarok's Taika Waititi is stepping back into the director's chair for this project, and also co-wrote the screenplay with Jennifer Kaytin Robinson.
While specific plot details concerning Thor: Love and Thunder haven't been revealed yet, the lineup of characters who will take part in this cosmic adventure is shaping up nicely. Read on to find out who's making up the movie's cast.
Chris Hemsworth
This shouldn't come as a shock to anyone. Chris Hemsworth's been playing Thor for a decade now, and Thor: Love and Thunder will mark his eighth appearance as the God of Thunder (ninth if you count his uncredited Doctor Strange cameo). A recasting at this stage of the game would have been bizarre. When we left off with Thor at the end of Avengers: Endgame, he departed Earth with the Guardians of the Galaxy (more on them later) in search of a new adventure. It's unclear where we'll find him when Love and Thunder kicks off, although Taika Waititi has suggested we shouldn't expect for Thor to still be overweight.
Tessa Thompson
Tessa Thompson's Valkyrie entered Thor's life in Thor: Ragnarok when he crossed paths with her on Sakaar, where she was drinking her sorrows away and working as a bounty hunter. Thor persuaded her to aid him in escaping Sakaar and stopping Hela, and during Avengers: Endgame, she took part in the final battle against Thanos' forces. Before leaving Earth at the end of Endgame, Thor appointed Valkyrie as the ruler of New Asgard, and she'll still be carrying out her kingly duties when we reunite with her in Thor: Love and Thunder. One would imagine Valkyrie will jump into action at some point in the movie, but we'll also follow along with her as she searches for her queen.
Natalie Portman
Jane Foster was a key character in the first two Thor movies, both as the God of Thunder's love interest and with her astrophysics research helping peel back the layers of the MCU's cosmic mysteries. However, when Thor: Ragnarok rolled around, we learned that she and Thor had broken up, and it was unclear if we'd ever see Jane again. Well, Natalie Portman is reprising the character for Thor: Love and Thunder, and following in her comic book counterpart's footsteps, she'll transform into The Mighty Thor. No information has been revealed yet about how this happens, but her powers won't be identical to what Thor Odinson is capable of. It also hasn't been clarified if Portman's Jane is going cancer treatment like the Jane in the comics was when she became a superhero.
Christian Bale
Once upon a time, Christian Bale left his mark on the comic book movie landscape playing Bruce Wayne, a.k.a. Batman, in Christopher Nolan's Dark Knight trilogy. Nearly a decade after his time as DC's Caped Crusader concluded in The Dark Knight Rises, Bale is jumping over to Marvel, but he's not playing a good guy this time around. Instead, Bale has been cast as Gorr the God Butcher, Thor: Love and Thunder's main antagonist. In the comics, Gorr has made it his mission to eliminate all gods in the Marvel universe as revenge for not aiding his family as they suffered and put their blind trust in deities. No doubt Bale's version of Gorr will have a similar agenda in Love and Thunder, although don't be surprised if his backstory is slightly altered.
Jaimie Alexander
Thor: Ragnarok saw many Asgardians perish, including Odin and the Warriors Three. However, one familiar face that was absent from the proceedings was Jaimie Alexander's Lady Sif. In real life, Alexander couldn't appear in Ragnarok because filming conflicted with her work on the NBC series Blindspot, and Marvel Studios president Kevin Feige attributed Sif's absence to Loki banishing her while he was disguised as Odin. We also learned that Sif was among the half of the universe snapped away by Thanos, but now that she's back among the living, the good Lady will reunite with Thor in Thor: Love and Thunder. Fingers crossed we learn what Sif post-Thor: The Dark World life has been like in the time she wasn't dust.
Taika Waititi
In addition to his directorial duties, Thor: Ragnarok also saw Taika Waititi playing Korg, the soft-spoken Kronan who Thor met on Sakaar during his brief time as a gladiator. With Valkyrie's assistance, Korg successfully led a rebellion against the Grandmaster, and in Avengers: Endgame, he was seen hanging out with Thor and his buddy Miek in New Asgard, as well as fighting in the movie's climactic conflict. Waititi revealed that Thor: Love and Thunder will touch on Korg's culture and where he's from, but beyond that, there hasn't been any word on how Korg fits into the story. That said, with him returning, it's a good bet Miek won't be far behind.
Chris Pratt
Thor met the Guardians of the Galaxy in Avengers: Infinity War, and as mentioned earlier, he decided to accompany them off Earth after Tony Stark's funeral. However, it didn't take long for Thor and Peter Quill, a.k.a. Star-Lord, to butt heads, as the former started acting like he was the leader of the team, when the latter had clearly retaken that role. Chris Pratt was the first Guardians of the Galaxy actor confirmed to appear in Thor: Love and Thunder, although as with the members being mentioned later on, it's unclear how big Star-Lord's role will be. At the end of Endgame, he was determined to find the time-displaced Gamora, but that mission is likely being saved for Guardians of the Galaxy Vol. 3.
Pom Klementieff
By the time Avengers: Infinity War unfolded, Pom Klementieff's Mantis had been part of the Guardians of the Galaxy for years within the MCU, but from the audience's perspective, she's still the newcomer of the group. Nevertheless, fans will get another opportunity to see her ahead of Guardians of the Galaxy Vol. 3. Towards the end of December 2020, Klementieff revealed she was in Sydney, Australia, which is where Thor: Love and Thunder is filming. Whether Mantis will use her emotion-manipulating powers or not remains to be seen.
Karen Gillan
Nebula went through a lot in Avengers: Endgame, from watching her "father" be beheaded by Thor to having to kill her past self in the heat of battle. By the end of the movie though, she seemed to be in a good place and rejoined the Guardians of the Galaxy. Karen Gillan teased at the beginning of January 2021 that she might be joining Thor: Love and Thunder, and over a week later, she confirmed her involvement, saying how she cut her hair to prepare to play Nebula again. Rocking a shorter hairdo will make it much easier to don the bald cap necessary to play the character.
Vin Diesel
You haven't seen Vin Diesel's face in the MCU, but you've definitely heard his voice coming out of a certain sentient tree's mouth. Vin Diesel's been voicing Groot since the beginning, and he was the one who spilled the bears about the Guardians of the Galaxy appearing in Thor: Love and Thunder. So it certainly makes that Groot would show up in Thor Odinson's next adventure. That being said, Diesel was supposedly sighted in Australia, but it wasn't confirmed if it was actually him. Plus, as a voice actor, it wouldn't be necessary for Diesel to be on set. Unless Taika Waititi brought Diesel in to also physically cameo as a separate character, it's hard to imagine why he'd be required on the Love and Thunder set.
Dave Bautista
Dave Bautista hasn't commented on whether or not he's in Thor: Love and Thunder, but it has been reported that he's in quarantine in Australia so he can eventually work on the movie's set. Plus, considering the other Guardians that have been accounted for, it's hard to imagine Drax the Destroyer sitting this story out. That's not to say that Drax will necessarily get the opportunity to pull out his trademark knives, but at the very least, hopefully he'll get into an amusing back-and-forth with Thor.
Matt Damon
Remember Matt Damon in Thor: Ragnarok? No? Well, clearly you weren't a fan of The Tragedy of Loki of Asgard, the play that Loki himself commissioned during his time disguised as Odin. Matt Damon cameoed in Ragnarok as the Asgardian actor playing Loki in the production, but he wasn't seen again after Loki was revealed to be alive. Damon has now reportedly joined Thor: Love and Thunder, although it's unclear if he's playing the same actor or a different character. If it's the former, then we can presumably count on seeing him in New Asgard.
Sean Gunn
Although not technically a member of the Guardians of the Galaxy, Sean Gunn's Kraglin is closely tied to Peter Quill from their time together in Yondu's Ravagers clan. Guardians of the Galaxy Vol. 2 ended with Kraglin practicing how to use Yondu's flying arrow, which is easier said than done (he also supposedly participated in Avengers: Endgame's final battle). Gunn was spotted on the Thor: Love and Thunder set wearing the arrow controller headpiece, so one can infer his character gotten a lot better at using the weapon in the years since his last appearance. Whether he's now officially part of the Guardians or has just gotten roped into their latest adventure with the God of Thunder remains to be seen.
We here at CinemaBlend will keep you apprised of more Thor: Love and Thunder casting updates as they're announced/reported. As things currently stand, the movie will storm into theaters on May 6, 2022, and you can learn what else the MCU has coming to the big screen with our Marvel movies guide.