Soul Won The Oscar, But Wolfwalkers Was The Better Film And Should Have Won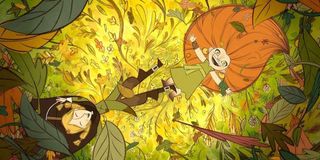 Tonight the 93rd Academy Awards ceremony kicked off and winners are already rolling in. That being said, with winners comes losers. Pixar's Soul just took home the Oscar for Animated Feature Film, but in my opinion the superior Wolfwalkers was far more deserving of the trophy.
Hear me out, Wolfwalkers is way better than Soul. Not just on a storytelling level but also from an animation perspective. While I will admit that the music in Soul is amazing (shoutout Trent Reznor and Atticus Ross), the story was just 'eh' for me. Let me break it down.
Soul follows Joe Gardner, an aspiring jazz musician who ends up dying just before his big break. He then is transported to the Great Beyond, a kind of limbo in between life and death. He refuses to die, knowing that he's on the cusp of greatness. So, he escapes into the Great Before, a kind of 'pre' life stage for souls, where they find their 'spark' for life ahead of being transported to earth and taking their mortal form. There, he meets '22' a stubborn soul who has yet to find her spark.
I should also add that Soul doesn't really break the mold for a Pixar flick in any meaningful way, outside of a few sequences involving the Jerry's and the great beyond. Wolfwalkers on the other hand is a masterpiece in the animation department. The 2D woodcut style is a breath of fresh air from that perspective.
Wolfwalkers follows Robyn, a young girl in 17th century Ireland who meets Mebh, a wild child with the ability for her soul to transform into a wolf while she sleeps. However, Mebh and her wolf pack are at odds with Robyn and her father, who is a state funded hunter, tasked with eradicating the local wolf population by Lord Protector Oliver Cromwell.
It's kind of a Princess Mononoke story, but it really felt like a fairy tale. It's hard to explain but Wolfwalkers whisked me away with its stylish animation and story. It's something new, which brings me to my next point.
Wolfwalkers should have totally won the oscar tonight. How much longer will the Academy continue to award Disney and Pixar? Since 2010 Disney has won the category 9 times. I mean come one, give us something new already. Every year there are amazing films that break mold of animation and they consistently lose out to the sanitized Disney Pixar animation.
I really felt like this would be like when Spider-Man: Into The Spiderverse beat out Incredibles 2 back in 2018. But, sadly it looks like the academy just didn't see what I saw in Wolfwalkers.
What do you think? Am I off base here or did Wolfwalkers get snubbed tonight? Let me know in the poll below.
This poll is no longer available.
Your Daily Blend of Entertainment News
Into tracksuits by Paulie Walnuts, the Criterion Channel and Robert Eggers.
Your Daily Blend of Entertainment News
Thank you for signing up to CinemaBlend. You will receive a verification email shortly.
There was a problem. Please refresh the page and try again.