Mortal Kombat Gets Dealt An Uppercut As It May Lose Its Box Office Crown In Its Second Weekend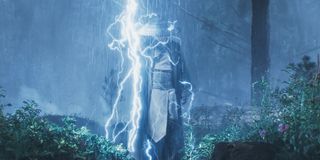 When the final box office numbers came in last weekend, the results didn't precisely match up with expectations. Arriving in the wake of Adam Wingard's Godzilla vs. Kong, a massive success worldwide, Simon McQuoid's Mortal Kombat was meant to take the baton and become the next big feature to take over the blockbuster conversation... but things didn't exactly go as smoothly as planned. The film did take over the title of "#1 Movie in America," but rather than winning a landslide victory the release instead found itself nearly losing to Haruo Sotozaki's Demon Slayer.
Now round two has played out via another Friday-to-Sunday stretch, and surprisingly a similar narrative has played out – only the big difference this time is that it looks like Mortal Kombat isn't walking away from the weekend wearing the box office crown. While things may shift when the final figures come in, as of now it appears that Demon Slayer has stripped the big studio release of its title and can now be called the biggest movie in North America.
According to The Hollywood Reporter, Hollywood did not exactly shatter records in the last three days – a result of the biggest new releases arriving on streaming instead of theaters – but the numbers as of right now show that Demon Slayer is beating out Mortal Kombat. While both films were able to eclipse $20 million when they made their domestic premieres last weekend, the numbers are way down this time around, and neither of them was able to make more than $7 million. As things currently stand, the anime film has made $6.4 million since this past Friday, and the video game adaptation has made $6.2 million. With figures that close, it's easy to understand why the industry has not yet declared a winner just yet.
After 10 days, this means that Mortal Kombat's box office total at home is $34.1 million, and presently it has made $66.9 million internationally. When you take into consideration the film's reported budget of $55 million, the film definitely doesn't look like a success – but multiple factors need to be kept in consideration. Obviously there is the COVID-19 of it all, as theaters around the country continue to operate at limited capacity during the pandemic. The studio is also certainly going to weigh the movie's streaming success into the way it judges its overall performance, as the tent pole release is currently streaming on HBO Max at the same time that it is playing on the big screen. Unfortunately we don't know the exact statistics at present, so it's a challenge to fully surmise its popularity.
What's impressive about Demon Slayer, on the other hand, is that all of the money that it has been raking in these past two weeks is just proverbial icing on the cake. The film was a success long before it found its way into American theaters, as it first premiered in Japan in October 2020 (arriving right after the television series it is based on completed airing its first season). It is now the highest grossing film of all time in its home country, with a total of over $361 million made from ticket sales, and globally it has now made $428.4 million. Given its apparent crossover success, it's pretty easy to say at this point that this is likely going to be a brand that we hear quite a bit about in the coming years.
And while it's not impressive that the biggest movies in America failed to make more than $15 million combined from Friday to Sunday, what should be emphasized in the box office results is that this is the first time since the start of the pandemic that seven titles have made more than a million dollars in a single weekend. This is in large part thanks to the arrival of William Brent Bell's new horror flick Separation, starring Rupert Friend, Violent McGraw, and Madeline Brewer. The new release didn't exactly make a massive splash, earning $1.8 million and nabbing fourth place in the rankings, but that total combined with Evan Spiliotopoulos' The Unholy bringing in $1.1 million for seventh place makes this a moment to celebrate. Before too long we will be back to where we were two years ago and every title in the Top 10 will declare sales in the millions.
Of course, the great bellwether for the return of theaters is the aforementioned Godzilla vs. Kong, which continues to earn big money on the big screen – and is notably no longer available to stream on HBO Max. Continuing to hold on to third place, the kaiju blockbuster added an additional $2.7 million to its domestic total since Friday, which means that it has now made over $90 million. This puts it only about $20 million shy of making more than Michael Dougherty's Godzilla: King Of The Monsters, which made $110.5 million when it played across the continent in the summer of 2019. Despite the pandemic, the 2021 release has already out-grossed its predecessor globally, having earned $415.4 million (compared to the latter's $386.6 million). The movie hasn't even premiered in Japan yet either, as that particular release has been delayed due to unfortunate circumstances.
Now that we're getting into May, we should start seeing a nice uptick in the number of exciting new releases on the big screen. With studios finally starting to feel confident in the possibility of making real money from wide domestic releases, the next few weeks will see the arrival of features like Darren Lynn Bousman's Spiral: From The Book Of Saw, Taylor Sheridan's Those Who Wish Me Dead, Shawn Levy's Free Guy, and John Krasinski's A Quiet Place: Part II. One would expect that all of those titles would inspire excitement at the box office in a normal year, and as things stand now hopefully people are still getting excited about the prospect of seeing movies in theaters after a year away from the experience.
Before any of those movies, however, the next big titles to arrive in cinemas will be Guy Ritchie's Wrath Of Man– a new crime thriller that reunites the writer/director with Jason Statham, and Billy Crystal's Here Today, co-starring Tiffany Haddish. We could wind up seeing a nice shakeup at the box office next weekend, so be sure to come back next Sunday to see how things play out.
Your Daily Blend of Entertainment News
Assistant Managing Editor
NJ native who calls LA home and lives in a Dreamatorium. A decade-plus CinemaBlend veteran who is endlessly enthusiastic about the career he's dreamt of since seventh grade.
Your Daily Blend of Entertainment News
Thank you for signing up to CinemaBlend. You will receive a verification email shortly.
There was a problem. Please refresh the page and try again.