Zack Snyder Banning Chairs? Army Of The Dead Star Clarifies Latest Report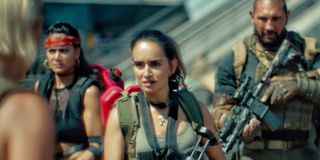 Army of the Dead is The Justice League director Zack Snyder's new zombie action thrill ride that is now available to stream on Netflix. Army of the Dead boasts an amazing cast, including Dave Bautista, Ana De La Reguera, and Tig Notaro. Snyder is a director with a clear vision for his films, and fans can't wait to see him get back into the zombie genre. Zack Snyder apparently banned chairs on the set of Army of the Dead, although one star has clarified those reports.
Zack Snyder banned chairs on the set of Army of the Dead creating in his mind a more intimate and hard-working environment that the whole cast and crew took part in. The whole "no chairs on set" may be slightly over-exaggerated, according to Army of the Dead star Ana De La Reguera. She acknowledged the claim that chairs were banned, telling Insider.com:
In a stunning revelation, Ana De La Reguera reveals that there were indeed chairs around the production of Army of the Dead; they were just very far away from the set. De La Reguera goes on to say that on her first day, they shot a lot of scenes then immediately started training afterward. The cast and crew were constantly working, so there was no time to lounge around anyway. The work environment Zack Snyder created seems to have fostered a set that reflected the gritty nature of Army of the Dead.
Zack Snyder was happy with the engagement he was able to have with his cast having them right in front of him and vice versa, making working together on Army of the Dead a unique experience. Everyone was on their feet and on top of each other, and Snyder is happy with the intimacy that was created during the four months of filming the zombie heist film.
Army of the Dead is unique to the zombie movie genre. It is essentially a heist movie set in the zombie apocalypse with a team of mercenaries who are pulling off a caper. Army of the Dead is the first Netflix movie to also get a wide release in theaters alongside its streaming release marking a massive accomplishment for Zack Snyder, who has raved about the creative control he was given by Netflix and thrown shade at The Justice League controversy.
Army of the Dead is a must-watch for zombie movie fans and Zack Snyder stans who love the director's unique style. The action-packed zombie heist movie has promised an unfiltered vision from Snyder, who, along with the cast and crew, put in a lot of work to get it made the way they wanted to, even if it meant standing all day long.
Your Daily Blend of Entertainment News
Movie and TV obsessive. A good Heist movie is the way to my heart. Enjoyer of everything from Marvel Movies to Rom-coms.