9 Great Comic Books To Add To Your Collection On eBay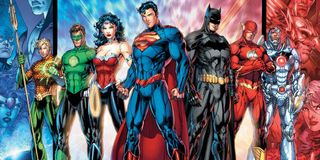 Superhero stories are more popular than ever these days, with all sorts of movies and television shows catapulting the genre to ever-climbing heights of popularity. Naturally, Marvel and DC are leading the charge on this front, but the only reason they've been able to do so is because they have decades worth of source material to pull from. This article and the above video were created with the support of eBay. The video comes from Eashan and features the popular artist talking about the Vote Loki #1 Comic Book and picking out many of his favorites on eBay. #eBayFinds - Check it out and check out the article below which outlines some great comic book options available for purchase on eBay right now!
While collections, be they in hardcover or trade paperback format, are handy for catching up on comic book storylines, maybe you're a newcomer to comics and would rather start off reading just one issue. Or maybe you're already a comic book fan and are on the hunt for rarer issues, and perhaps even willing to drop a significant amount of money to do so. Whatever category you fall under, we have you covered on comics you can purchase on eBay to add to your collection. Loki-ng for Comic Book collections on eBay. After moving back to the place I grew up in, I decided to relive those memories by ordering a bunch of comic books from eBay with a special comic series!
If You're Just Getting Into Comic Books
Justice League #1
In 2011, the Flashpoint crossover event ended with the DC universe being rebooted as part of The New 52 initiative. The first book to be released for this publishing relaunch was Justice League #1, which took place five years in the past and launched the story arc that showed how Superman, Batman, Wonder Woman, Flash, Green Lantern, Aquaman and Cyborg came together for the first time in this new reality. If you're looking to get into Justice League comics without being bogged down by years of continuity, and especially if you enjoyed watching the heroes join forces against Steppenwolf/Darkseid's forces in either of the Justice League movies, then this issue is worth delving into.
Buy Justice League #1 on eBay. (opens in new tab)
Venom #1
Venom may have started out as a Spider-Man foe, but he's also led plenty of his own adventures, including several ongoing series. The current Venom series by writer Donny Cates kicked off a few years back, introducing the Rex storyline, which would lay the groundwork for the Absolute Carnage crossover event and more. This Venom series is a wild ride that starts off with Eddie Brock and his trusty symbiote investigating a primordial evil lurking beneath New York City. Pick up Venom #1 if you enjoyed the kooky sensibilities of Tom Hardy's Venom movie and want more of that on the printed page.
Buy Venom #1 on eBay. (opens in new tab)
Suicide Squad: Rebirth #1
The Suicide Squad is returning to the big screen later this year, this time under the creative vision of James Gunn. If you're looking to learn more about Task Force X ahead of their next cinematic adventure, Suicide Squad: Rebirth #1 is a good place to start. Published as part of the DC Rebirth initiative, this issue featured several of the principal characters who starred in the 2016 Suicide Squad movie, like Amanda Waller, Rick Flag, Harley Quinn, Deadshot and Captain Boomerang. Waller pulls Flag out of a jail cell to put the Squad back together for an especially dangerous assignment, and in the issues to come, the Squad keeps growing, with characters like Killer Croc, Katana and Enchantress also jumping into action.
Buy Suicide Squad: Rebirth #1 on eBay. (opens in new tab)
If You're A Seasoned Collector
House of M #1
Marvel Cinematic Universe fans watched earlier this year as Wanda Maximoff reshaped a small town's reality in the Disney+ series WandaVision. Back in 2005, she did that to a much larger degree in the House of M crossover. Following the events of Avengers: Disassembled, and desperate to recreate her lost children, Scarlet Witch used her powers to rewrite the main Marvel universe, similar to what was done in the Age of Apocalypse storyline. If you're looking for a brief detour into a different kind of Earth-616, House of M is worth reading, and even though things do revert to normal eventually, Wanda leaves one last parting gift on the world (no spoilers here, on the off chance you're in the dark about the big twist).
Buy House Of M #1 on eBay. (opens in new tab)
Crisis On Infinite Earths #1
In 1985, DC Comics decided to do away with its multiverse following the consensus that it was unfriendly to new readers. Enter Crisis on Infinite Earths, which saw heroes and villains from all sorts of realities coming together to battle the Anti-Monitor, a powerful cosmic being who was destroying every Earth in the multiverse. Crisis on Infinite Earths #1 is a whirlwind of craziness that kicks off this 12-issue limited series, and it all led to the entire DC universe being rebooted and only being set on one Earth. Granted, DC eventually decided to reestablish the multiverse years later, but it's still worth seeing how its original destruction unfolded and the lives that were lost along the way, including one of the founding Justice Leaguers. Bonus points go to those of you who read this and also watched The CW's Crisis adaptation.
Buy Crisis On Infinite Earths #1 on eBay. (opens in new tab)
Secret Invasion #1
Skrulls have been part of the Marvel universe since Fantastic Four #2, but in 2008, these aliens came to the forefront in an unsettling way. It turned out the shapeshifters had spent years infiltrating Earth to destabilize our society, which included severely replacing many of the Marvel superheroes. But eventually the Skrulls' deception was uncovered, leading to a full-blown skirmish between Earth's defenders (and some of its bad guys) and the aliens. It's unclear how much of Disney+'s Secret Invasion series will borrow from the comic book event, but it's nonetheless worth looking through Secret Invasion #1 to see how this strange Marvel tale kicked off.
Buy Secret Invasion #1 on eBay. (opens in new tab)
If You're Looking For Really Rare Stuff
The Amazing Spider-Man #361
After appearing in Venom's mid-credits scene, Woody Harrelson is making his full debut later this year as serial killer Cletus Kasady, a.k.a. Carnage, in Venom: Let There Be Carnage. Because the Venom movies aren't tied to Spider-Man (yet), the circumstances in which Kasady will turn into Carnage will obviously differ in the upcoming movie. That being said, if you're willing to drop a pretty penny, it'd be worth picking up The Amazing Spider-Man #361, the issue where Kasady (who debuted 15 issues prior) and the Carnage symbiote first bonded.
Buy The Amazing Spider-Man #361 on eBay (opens in new tab)
The Flash #139
Eobard Thawne, a.k.a. Professor Zoom/The Reverse-Flash, may not have been the first super villain Barry Allen battled, but he's unquestionably been cemented as The Flash's arch-nemesis. Eobard has been The Flash TV show's main antagonist, and it's expected (but not confirmed) that he'll appear in The Flash movie. But if you want to to truly understand how far the character's come over the years, set aside some more for The Flash #139, his first comic book appearance. This Eobard is definitely a product of the Silver Age time period he was created in, but it's cool to see the basic elements on display that would make him such an iconic villain.
Buy The Flash #139 on eBay. (opens in new tab)
Captain America #354
Earlier this year, the Disney+ series The Falcon and the Winter Soldier showed Wyatt Russell's John Walker inheriting the Captain America mantle, although it soon became clear he wasn't a worthy successor to Steve Rogers. Now Sam Wilson is the new Captain America, while John, who's now empowered by the Super Soldier Serum, is working for Contessa Valentina Allegra de Fontaine as U.S. Agent. For those of you eager to see the next chapter of Walker's story in the MCU, consider picking up Captain America #354. Although Walker debuted as the Super-Patriot in #323, it was #354 where he hit the scene as U.S. Agent, so feel free to compare how that differed from what happened in the TV realm.
Buy Captain America #354 on eBay. (opens in new tab)
These are just some of the comic books you can find on eBay, so if you're looking to take your collection to the next level or simply wanting to start one, browse through the website to find the ones that speak to you. Just make sure to act quickly!
The above article was produced in partnership with eBay. Please consider supporting eBay by checking out these great products.
Your Daily Blend of Entertainment News
Thank you for signing up to CinemaBlend. You will receive a verification email shortly.
There was a problem. Please refresh the page and try again.