ReelBlend Podcast #37: Lady Gaga, First Man Reactions And A Special Show From Toronto 2018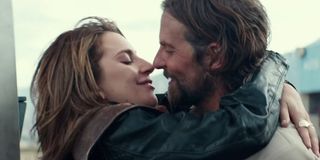 We have been guilty of saying this before. We might even say it again. But this week's episode of ReelBlend might be our absolute favorite. It's certainly a special one. Because even though we are 37 episodes into our weekly film-centric podcast, this is the very first time that Kevin McCarthy, Sean O'Connell and Jake Hamilton were all together, in the same room, and man, did they have an absolute blast.
The guys were in Canada, covering the Toronto International Film Festival. Which means they had a boatload of incredible movies to discuss, including the jaw-dropping A Star Is Born, directed by Bradley Cooper and starring Lady Gaga. But it didn't end there. Sean caught First Man, a movie the guys have been anticipating for weeks now. Kevin and Sean attended the World Premiere of Halloween. And Jake has a killer Matthew McConaughey story. So does Kevin, for that matter. For real, we have so many stories in this episode, it's a little overwhelming.
Before they even get into TIFF, the guys have a lengthy and passionate conversation about the Oscar popularity contest -- which, if you haven't heard, is dead before it even got started. From there, the guys discuss the possibility of a Call Me By Your Name sequel. And Jake and Kevin share the details of an amazing Las Vegas trip they took on behalf of Bohemian Rhapsody, so listen to what they had to say about that movie, and the event they attended.
Then, it was on to this week's #Blend game, which was a passionate discussion about the films of Alfonso Cuaron. The fantastic filmmaker has a new movie in Toronto, Roma, but the boys haven't seen it yet. So instead, they discuss their favorite movies by him.
ReelBlend is a LIVE podcast that we do on CinemaBlend's Facebook page. As soon as we are done on Facebook, you can download the latest episode (and all of our past episodes) for FREE on our iTunes page! Visit. Subscribe. Like and comment. Review! Apple loves when you have star ratings and reviews, so if you listened, and you liked it (or even if you didn't), let us know. We also are on Spotify. And Google Play. And basically everywhere that you download podcasts. So download us.
Meanwhile, follow the guys on Social Media! We have an official Twitter feed for the show, so follow @ReelBlend. In addition, follow the guys at @Sean_OConnell, @JakesTakesand @KevinMcCarthyTV. We will be back at it next week, LIVE on CinemaBlend's Facebook page. See you then!
Movie junkie. Infatuated with comic-book films. ReelBlend cohost. Resident dad. Extroverted introvert. Wants to see the Snyder Cut. Managing Director at CinemaBlend.
Your Daily Blend of Entertainment News
Thank you for signing up to CinemaBlend. You will receive a verification email shortly.
There was a problem. Please refresh the page and try again.