Apparently, One Horny Turtle Is Single-Handedly Saving His Species From Extinction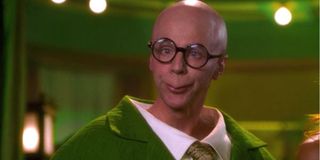 (Image credit: Master of Disguise)
Whoever said that turtles move slowly has clearly never met Diego. The Galapagos tortoise, who is over 100 years old, has brought his species back from the brink of extinction by fathering over 800 offspring. And you thought the Octomom had her hands full!
Diego's breed (Chelonoidis hoodensis) was in a dire place just 50 years ago, with only 14 tortoises left --- two males and 12 females who were too spread out to breed. (Futurama even depicted the difficulty of this spread apart tortoise breeding in an episode.) But today, around 2,000 tortoises of the breed are roaming their homeland of Espanola, the southernmost island in the Galapagos, thanks largely to the tireless efforts of Diego, reports AFP. The sexually active tortoise has spawned a whopping 40 percent of his species' current population, making him the father of an estimated 800 tortoises, according to Washington Tapia, a specialist at Galapagos National Park.
Years back, after reports that the Chelonoidis hoodensis species was in serious danger of disappearing, scientists combed zoos across the world in search of more members of this rare tortoise breed. They wound up discovering Diego in the San Diego Zoo (his namesake) and returning him to a breeding program in the Galapagos in 1976. Though he'd been breeding seemingly non-stop since then, it wasn't until about six years back that scientists performed a genetic study on the growing population and realized just how potent Diego really is. He currently still resides in the Galapagos breeding facility with six female mates.
Thanks to Diego's lusty libido, the tortoise species is no longer considered to be facing extinction, although scientists are still trying to increase population to a healthier level, pointing out that there have historically been around 5,000 Chelonoidis hoodensis tortoises on Espanola. But the outlook is good, as the population continues to grow due in large part to Diego.
Unfortunately, some other tortoise species aren't as lucky as Diego's. The various tortoise species of the Galapagos islands were made famous centuries back when Charles Darwin catalogues their impressive biodiversity, but nearly all of their populations have dwindled since then. The Chelonoidis abingdoni species went completely extinct just recently when its final remaining member died in 2012. Known as Lonesome George, the male tortoise was over 100 and refused to breed for years before his death. Likewise, two other Galapagos tortoise species went extinct a couple centuries back, leaving 12 species that are still roaming around the islands.
Diego's reproductive prowess has been a positive anomaly in the slowly dying tortoise species of the Galapagos. Hopefully some of his passion for breeding rubs off on his shelled cousins.
Your Daily Blend of Entertainment News
Your Daily Blend of Entertainment News
Thank you for signing up to CinemaBlend. You will receive a verification email shortly.
There was a problem. Please refresh the page and try again.