Azealia Banks Is Accusing Russell Crowe Of Trying to Choke Her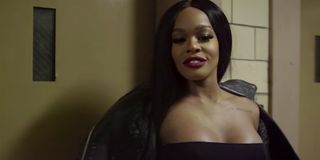 (Image credit: Azealia Banks "The Big Big Beat" video)
Here's a celebrity fight that you didn't see coming: Azealia Banks is accusing Russell Crowe of choking her and forcibly removing her from a dinner party that he threw over the weekend. Banks is said to be insistent that Crowe brutally abused her, while other sources have said that Banks was the actual cause of violence and Crowe did nothing wrong.
Rather than let the matter remain a he-said-she-said controversy, Azealia Banks has filed a police report concerning the incident, accusing Russell Crowe of batter, TMZ reports. Apparently, Banks is demanding that Crowe apologize for how he treated her at a dinner party he threw on Saturday night, but Crowe maintains that he did nothing wrong.
The story of what actually happened at Russell Crowe's dinner party is still unclear, but sources have told TMZ that the actor invited over a number of guests to eat dinner and listen to music on Saturday night. Apparently, Crowe invited rapper RZA as one of his guests, and he brought along Azealia Banks as his plus one --- Banks is starring in RZA's upcoming movie Coco, so they've been working closely recently. According to TMZ's sources, Banks made fun of the music that Crowe had selected and proceeded to threaten other guests when she was told to be quiet. When Banks allegedly held her glass behind her head as if to hurl it at someone, Crowe grabbed her, carried her out of the apartment, and called security to remove her.
But in Azealia Banks' version of the story, Russell Crowe erupted in a barrage of N-words directed at Banks, and then choked her out as he tried to throw her out of his place, and even spit on her. Afterwards, Banks posted a statement via her manager, saying that she needs time to process "the brutality and abuse she was unjustly subjected to."
Both Azealia Banks and Russell Crowe have become known for their public outbursts. Banks' Twitter account was suspended earlier this year after she posted a string of offensive tweets targeted at celebrities like former boy band star Zayn Malik and Disney actor Skai Jackson, and Crowe has gained a reputation for having an explosive temper thanks to a string of outbursts in the early 2000s, including being arrested for assaulting a hotel concierge with a telephone.
Currently, the dinner party incident is fully shrouded in the lens of "allegedlys" and "reportedlys," but now that the police are apparently getting involved, we'll hopefully get a better idea of what actually happened pretty soon.
Your Daily Blend of Entertainment News
Thank you for signing up to CinemaBlend. You will receive a verification email shortly.
There was a problem. Please refresh the page and try again.