Bill Murray Once Caught Jamie Dornan Sneaking Out Of A Party, Here's What Happened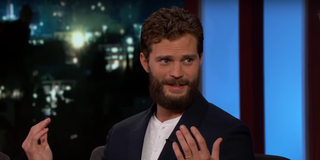 Bill Murray is known to turn any moment with him into a strange and magical time. That's exactly what happened a few years ago when the comedian shared a few reflective moments with Jamie Dornan.
Jamie Dornan appeared on Jimmy Kimmel Live over the weekend to tell the tale. Kimmel first asked Dornan about some photos of himself and Billy Murray golfing together. Dornan said that they were from about three years ago during his first year competing in the Dunhill Links Championship golf tournament held in St. Andrews, Scotland. The tournament pairs newcomers with seasoned vets to compete together, and much to Dornan's surprise, he was teamed up with none other than Billy Murray.
After they were off the green, Jamie Dornan says he was a bit too starstruck to ask his golf partner to hang out, but that moment did unexpectedly come after a party later that night. Dornan recalled that he had gotten a little too tipsy and was sneaking off to bed, when the elevator doors to his floor opened to reveal Bill Murray, who instead took the young actor to a hidden bar in the hotel with a balcony overlooking the golf course.
Ultimately, Jamie Dornan decided to wait a few seconds and then sneak off to bed without attempting to interact with Bill Murray inside. Still, it's pretty cool to think that Bill Murray could give Dornan such an incredibly memorable moment by just standing with him silently for a couple minutes.
Jamie Dornan appeared on Jimmy Kimmel Live to promote his upcoming sequel Fifty Shades Darker, which comes out in February 2017. The actor also gave a not-so-helpful response to those rumors that Ian Somerhalder might replace him in the film franchise. Check out Dornan telling the tale of his night with Bill Murray below.
Your Daily Blend of Entertainment News