Natalie Portman Confirms She's Expecting Her Second Child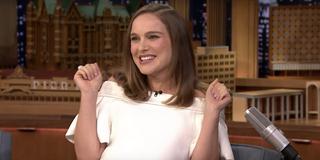 (Image credit: The Tonight Show with Jimmy Fallon)
It's finally official! Natalie Portman confirmed that she's about to be a mommy of two on The Tonight Show with Jimmy Fallon on Tuesday night after remaining quiet on her baby bump for a couple months. This will be Portman's second child with husband Benjamin Millepied.
The pregnancy isn't exactly news to most fans and media outlets, as people have been pointing out Natalie Portman's pretty obvious baby bump for the past two months since she showed it off in a tight, white gown at the Venice Film Festival in early September. By the time of her appearance on The Tonight Show Tuesday night, the bump had become much too noticeable for Jimmy Fallon to simply ignore, and Portman finally confirmed that she is indeed pregnant after Fallon brought the topic up.
Apparently Natalie Portman's silence on the pregnancy despite pretty much everyone already knowing was surprising to Jimmy Fallon as well, who shared that he had seen her over the summer and she didn't mention anything to him either. Portman's response was that it was still early in the pregnancy and she just naturally assumed people knew about it without her having to confirm it because she wasn't drinking.
And don't let that growing baby bump fool you --- Natalie Portman says that she's still pretty early in her pregnancy. The actress said that the bump is just more noticeable on her body because of her petite figure. Looks like baby number 2 won't be arriving for quite some time.
The new bundle of joy will be the second child for Natalie Portman and her husband Benjamin Millepied. Their first son, Aleph Portman-Millepied, turned 5 this summer. Portman gave birth to him a year before she and Millepied married in 2012. The couple first met on the set of the psychological thriller Black Swan in 2010, in which Portman starred and Millepied served as a choreographer.
Check out Natalie Portman's adorable pregnancy announcement in the Tonight Show clip below.
Your Daily Blend of Entertainment News