Little Boy Dies With Santa By Him Side, And The Story His Heartbreaking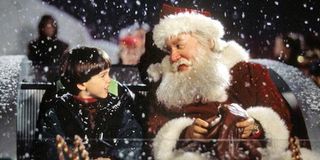 Christmas is a time of wonder and miracles, but one tragic story is bringing tears to our eyes this year. It's about a professional Santa Claus impersonator that helped grant one child's Christmas wish, only to witness it become the young boy's final wish, as well.
Our Santa is Eric Schmitt-Matzen, a 61-year-old man from a small town in Tennessee, who has been bringing smiles to good girls and boys this time of year for nine years now. However, after a heartbreaking encounter with a terminally ill boy this year, Schmitt-Matzen admits that he may be too crushed to put on that red suit and act all holly jolly ever again. He told the painful story about brining Christmas cheer to a boy in the hospital and then holding him as he passed away to ABC News.
Eric Schmitt-Matzen got a call from a hospital nurse telling him about a boy that was more concerned about missing Christmas than dying, and he rushed to the hospital. In order to protect the family's privacy, Schmitt-Matzen did not reveal the boy's name or his illness, but he would disclose that he was five years old and terminally ill. Schmitt-Matzen met the boy's family in the hallway and told them that they should not follow him in unless they could remain upbeat and cheerful while in the room, since it was his job to bring the boy some happiness. Understandably, none of the family members thought they could muster up the cheer, so Schmitt-Matzen walked in alone.
With his holly jolly Santa cheer turned all the way up, Eric Schmitt-Matzen comforted the boy and gave him the present that his parents had wrapped for him. After opening the gift, the boy looked at Santa and told him about his grim chances at staying alive. Schmitt-Matzen recalled the sad moment, and remembered his own tearful, uplifting response.
The touching moment led to a big hug, and it was while in this embrace that Eric Schmitt-Matzen could feel the pass away, and the tears began streaming.
On the drive home, Eric Schmitt-Matzen had to stop the car multiple times because he couldn't see through the tears, and that he would still see that little boy's eyes looking up at him for two weeks following the visit. Okay, I think at this point even the Grinch and Scrooge are bawling. Be sure to give your loved ones an extra squeeze this holiday season.
Your Daily Blend of Entertainment News
Thank you for signing up to CinemaBlend. You will receive a verification email shortly.
There was a problem. Please refresh the page and try again.