Apparently Sylvester Stallone Clashed With Another Celebrity Over Golden Globes Seating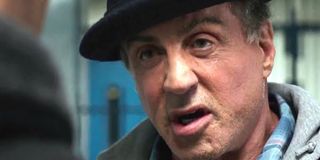 (Image credit: Creed)
It sounds like Sylvester Stallone didn't exactly have the best time at the Golden Globes this year. Although the legendary actor presented the Best Picture category and his three daughters served as Miss Golden Globes, viewers would be hard-pressed to find him grinning in the crowd during the telecast. According to some insiders, the Rocky star got in a bit of a skirmish with one of the night's big winners before the show started and chose to watch the ceremony backstage rather than share a table with him. Yikes; I definitely would not want to be on Rocky Balboa's bad side...
Reportedly, Sylvester Stallone was assigned to sit with the cast and crew of Manchester by the Sea, but when he got to the table with his wife Jennifer Flavin, he found that the couple had only been given one seat, insiders tell PEOPLE. The couple apparently didn't get any help from their would-be table mate Casey Affleck, and Stallone was reportedly frustrated by the situation and decided to just go sit backstage. Even when a second chair was brought to the table to accommodate Stallone and his wife, the actor decided not to return to the Manchester by the Sea group.
Although it sounds like an awkward situation, sources say that the mix-up wasn't an intentional slight against Stallone or anything like that, so you can most likely squash your Casey Affleck-Sylvester Stallone feud rumors before they start to bubble up. It was simply a small misstep in the planning process that didn't account for the correct number of people at the table.
But before he stormed off, Sylvester Stallone must have left some of his Golden Globes magic at Casey Affleck's table --- the Manchester by the Sea star went on to win the Best Actor in a Drama award that night. The year before, Stallone had won the Best Supporting Actor in a Drama category for his role in the Rocky continuation film Creed.
And it looked like Sylvester Stallone's unexpected change in seating didn't dampen his mood at Sunday night's awards show. The actor's three daughters Sophia, Sistine, and Scarlet served as the ceremony's three Miss Golden Globes, and Stallone reunited with his Rocky costar Carl Weathers to present the Best Motion Picture - Drama award to Moonlight. Check out Stallone's appearance at the Globes below.
Your Daily Blend of Entertainment News
Your Daily Blend of Entertainment News
Thank you for signing up to CinemaBlend. You will receive a verification email shortly.
There was a problem. Please refresh the page and try again.