One Regret Ellen Has About Coming Out At 39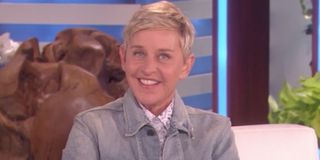 In April, Ellen DeGeneres devoted a full hour of her Emmy Award-winning daytime talk show to commemorate the twentieth anniversary of the comedienne's Ellen sitcom episode in which her character, Ellen Morgan, came out of the closet. DeGeneres called that moment the hardest thing she ever had to do in life, because that 1997 episode coincided with the comic's coming out in real life and in the public eye. Now Ellen DeGeneres has one regret about how it all went down two decades ago. She wishes she had come out sooner.
Matt Lauer sat down with Ellen DeGeneres when she welcomed him as a guest for the Thursday, May 4 episode of The Ellen DeGeneres Show. Afterward, Lauer and DeGeneres remained on the set, but switched roles so he could get an interview for the Friday, May 5 episode of The Today Show. The talk moved to the Ellen coming-out episode, which famously received the name "The Puppy Episode", after an executive urged Ellen DeGeneres not to come out on the show and suggested she have the main character adopt a puppy instead. Matt Lauer indicated that DeGeneres's coming out story happened not only in her life, but also the life of all Americans. He asked how DeGeneres feels with twenty years of space and time between that episode and now. The funny lady shared the sentiment that she wishes her coming out story had happened sooner in her life, saying,
After Ellen DeGeneres announced her sexual orientation in 1997, a storm of controversy loomed over her show, and Ellen was off the air the following season. DeGeneres famously ducked out of Hollywood for a few years in the wake of that moment. Thankfully, Ellen DeGeneres resurfaced better than ever, like a phoenix from the ashes. Today the 59-year-old talk show host has danced her way back into the hearts of viewers, and she cries all the way to the bank when people give her grief for being gay. DeGeneres is one of the most lauded (and richest) people in the entertainment industry, and she uses her success to improve the lives of others.
Yes, it sounds pleasant when Ellen DeGeneres says she wishes she had come out of the closet sooner. However, that sentiment belies the fact her coming out story---exactly as it happened---was one of enormous impact for many people.
Your Daily Blend of Entertainment News
Thank you for signing up to CinemaBlend. You will receive a verification email shortly.
There was a problem. Please refresh the page and try again.