Warrant Out For Rose McGowan's Arrest Related To Drug Charges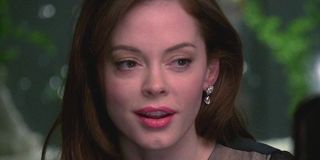 New reports say Virginia authorities issued a warrant for the arrest of Rose McGowan earlier this year over felony drug possession charges. Allegedly, airport officials at Washington Dulles International Airport found traces of narcotics in belongings the Charmed actress left on a United Airlines flight she took from Los Angeles in January. The Metropolitan Washington Airports Authority Police Department issued the warrant for McGowan's arrest on February 1 after a preliminary investigation. In a statement, the police department's spokesperson, Rob Yingling, said,
The AP report arrives after weeks of headlines about Rose McGowan's statements against sexism, sexual harassment, and sexual assault in Hollywood. Recently, the Grindhouse actress has spoken about her personal experiences, even tweeting that a man with the initials "HW" raped her in 1997. Various entertainment news outlets wrote that McGowan had confirmed her rapist as Harvey Weinstein. However, publications like The Daily Beast said McGowan could not disclose details because a $100,000 non-disclosure agreement prevented her.
Still, Rose McGowan recently spoke with The New York Times and shared details of the alleged assault, right down to revealing her manager had scheduled her a 10:00 a.m. appointment with Harvey Weinstein at the Stein Eriksen Lodge in Park City, Utah, during the Sundance Film Festival in 1997. McGowan also said business associates of Weinstein offered her $1 million to keep quiet, but she turned it down. For these reasons, McGowan believes reports about the drug possession charges are a way to "silence" her. She called the charges "horseshit" and tweeted,
Previously, Rose McGowan indicated there might be a conspiracy to keep her from talking about her personal experiences. In early October, Twitter suspended the actress' account because she included a private phone number in a tweet. However, the actress felt the suspension only occurred because she called out Ben Affleck and Matt Damon for their supposed complicity regarding her sexual assault allegations.
Rose McGowan has remained outspoken since getting suspended and then fixing the issue with Twitter, even saying there have been "powerful forces at work" trying to shut her up. Many of McGowan's fans and supporters have supported her previous tweets. Similarly, some of McGowan's social media followers are questioning why reports about the drug possession charges are just now surfacing.
Regardless, the drug possession charges exist and will likely require Rose McGowan's attention at some point. However, at this time, it is unclear what McGowan will do to square away the situation. We'll have to stay tuned to see if she broaches the topic again in the coming days.
Your Daily Blend of Entertainment News
Your Daily Blend of Entertainment News
Thank you for signing up to CinemaBlend. You will receive a verification email shortly.
There was a problem. Please refresh the page and try again.