Adidas Set To Release Kermit The Frog Sneakers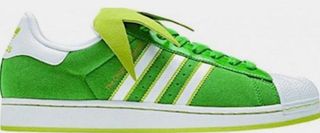 Apparently it's a great week to be a novelty shoe collector. Yesterday it was announced that Nike would be releasing a line of prop-replica shoes based off Marty McFly's power-lacing kicks from Back To The Future Part II. Not to be outdone (though they usually are) Adidas has decided to strike back with today's big announcement. It's not easy being green…
Citysole.com is reporting that Adidas will be unveiling a pair of Kermit The Frog inspired shoes as part of their Superstar line this Winter. The shoes feature a Kermit lily pad collar over the traditional Adidas pattern covered in green suede. Kermit will be joining the ranks of Hellboy, C-3po and R2-D2 (all of which have now had their likeness inscribed on Adidas footwear). It's unclear how many Muppets they will have to hunt and skin in order to achieve the authentic finish, but Lady Gaga's dress-maker is on speed dial.
There is no word yet on how much these Muppet-centric kicks will cost you, but if past sales are any indication they'll probably run over one hundred dollars when they hit shelves sometime in November. So start saving now, all you reasonably rich, Muppet-loving, shoe-fiends. One can only hope Adidas releases a full line of Muppet sneakers. I've always wanted a pair of Miss Piggy shoes with a layer of bacon stitched into the sole. Better yet, a pair of Fozzy kicks with jokes on the inside or Gonzo lace-ups that have his trademark nose hanging over the front. The Kermit The Frog Adidas shoes will coincide with the release of The Muppets film due out this holiday season. Cross-marketing for the win!
Your Daily Blend of Entertainment News
Thank you for signing up to CinemaBlend. You will receive a verification email shortly.
There was a problem. Please refresh the page and try again.