Australia Doesn't Want Chris Brown In Their Country, Denies Visa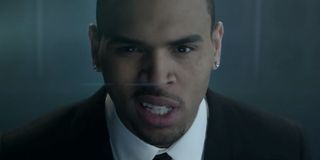 R&B/Hip-hop artist Chris Brown has drawn the attention of the media for all the wrong reasons during most of his career. Pleading guilty to attacking his girlfriend, pop icon Rihanna back in 2009, has never been forgotten when it comes to the singer. And now, as the artist puts in his visa application to tour in Australia, the country is not complying, denying the U.S. singer on character grounds. Needless the say, Australia doesn't want a person guilty of domestic abuse, easily entering their country.
As it stands, Brown was issued a formal notice of his applications denial, and he has 28 days to appeal. Immigration minister, Peter Dutton confirmed with The Guardian of Australia's denial for entrance. The minister explained that Chris Brown will have to present material as to why he should be given the visa, and the Department of Immigration and Border Protection will make their decision. Newly appointed women's minister Michaelia Cash assured The Guardian that Brown will be looked at very seriously, and that her strong recommendation is not to allow the musician in.
This isn't the first time the conversation of Chris Brown's tour in Australia has come up either. Just this month an advocacy group called GetUp created an online petition asking for the musician to be banned from entering the country, claiming that allowing him to tour sends a message that Australia doesn't take domestic violence seriously.
Chris Brown was set to tour in Sydney, Melbourne, Brisbane and Perth as part of his current One Hell of a Nite tour. But while Brown's spokesperson would not give any comment on the situation, tickets for the shows still are going on sale this week. Also, Brown has previously toured in Australia since his conviction, but it seems that the GetUp petition has initiated some change.
This also comes after Australia threatened to execute Johnny Depp's dogs after he illegally brought them into the country while he was shooting the new Pirates of the Caribbean movie. It sounds like Australia has had enough with celebrities always getting their way.
Your Daily Blend of Entertainment News
Thank you for signing up to CinemaBlend. You will receive a verification email shortly.
There was a problem. Please refresh the page and try again.