The Black Keys Drummer Claims Jack White Almost Fought Him At A Bar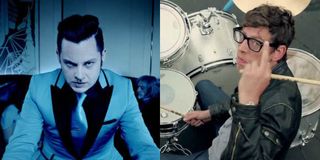 The Black Keys/Jack White tiff has spiraled out of control time and time again. At this point in time, when we see a headline like the one above, there no longer is an element of surprise. But the feud between the musicians has usually been more talk than actual action. So when we hear about a physical fight actually on the verge, well, we want to know more.
The Black Keys' drummer Patrick Carney broke the news of the unsurprising disagreement over his Twitter account. A number of the Tweets he first sent have since been deleted, but essentially he claimed that White Stripes frontman Jack White tried to start a fight with Carney last night at a New York City bar. The full statement from the tweets read:
Carney's allegations quickly took the internet by storm, because, that's what happens when you feed the fire to a feud that pre-exists. But of course, there's two sides to every story. And so, Jack White naturally responded essentially calling The Black Keys' drummer a whiny bitch. Ok he didn't exactly say that, but pretty much. Here's his statement about the incident to EW:
Well that wasn't the end of the story. And we probably will never know the actual story, because these are celebrities. But, apparently upon White's statement, the two had a nice little chat privately. Yes, privately. And those words don't look like they are going to be spilled for millions to see, because Patrick Carney then tweeted this.
So, all really is good, for now. Let's see how long it lasts till another tiff between the feuding musicians hits the trending wheel once again.
Your Daily Blend of Entertainment News
Thank you for signing up to CinemaBlend. You will receive a verification email shortly.
There was a problem. Please refresh the page and try again.