Ellen DeGeneres Caught Staring Down Katy Perry's Grammys Dress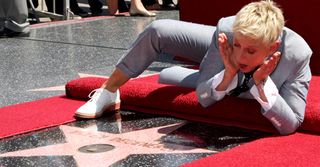 Attempts to tamp down the racy fashion at the Grammy Awards were pretty much futile last night, as plenty of pop stars showed enough skin to draw attention-- and not just from the photographers and audiences sitting at home. Sure, everyone was talking about Katy Perry's cleavage last night, thanks to the mint-green dress that showed off her impressive assets, but while more than a few people might have been sneaking peeks in person, only one got to get up close and personal in front of the cameras-- and no, it wasn't John Mayer.
This Getty image of Ellen DeGeneres taking a look at Perry's décolletage is the kind of thing that really needs no introduction, so click over to Gawker to see the priceless moment, along with Portia de Rossi's smile that seems to be saying "OK, let's go honey, we're making her uncomfortable."
The always-cranky Gawker commenters have already pointed out that, if a man were to gawk at Katy Perry in the same way, we'd probably all find it despicable. But I like seeing cute and cuddly Ellen DeGeneres, who is a very rich lady thanks to a daytime talk show that appeals to at least a few conservatives, stepping up and reminding the world that as a lesbian, yes, she's actually attracted to other women. It might seem obvious, but Ellen has kind of invited us all to desexualize her over the years, thanks to her long-term relationship with Portia and her family-friendly image that seems light years away from the "Yep, I'm Gay" controversy of the late 90s. This is an excellent reminder that, even though she's your mom's favorite talk show host, Ellen is still a lady who appreciates other attractive ladies.
Then again, you don't have to be a lesbian to marvel at Katy Perry's breasts. I think we all can admit that.
(Ellen DeGeneres image via Helga Esteb (opens in new tab) / Shutterstock.com (opens in new tab))
Your Daily Blend of Entertainment News
Staff Writer at CinemaBlend