Radcliffe Emotional Over Harry Potter Wrap Up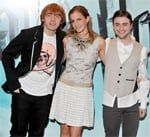 Daniel Radcliffe broke down in tears when he finished filming on the last ever Harry Potter movie last week (ends13Jun10).
The British actor and his castmates have now completed work on Harry Potter and the Deathly Hallows: Part II, shooting their last scenes in London over the last few days. And Radcliffe admits he and his fellow castmembers were overcome with emotion as the shoot wrapped for the final time.
He tells the Associated Press, "Everyone was really devastated. It was really, really sad. We were crying quite a lot. It's a weird, weird feeling."
The first installment of the two-part conclusion will be released later this year (10), while Part II hits cinemas in 2011. (LR/WNWA/MT)
Copyright 2010 WENN