Singer Adele Announces She Is Pregnant Via Her Blog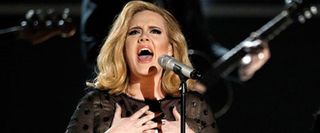 Singer Adele joked a few months back, saying she never wants to pen a bitter "breakup record" again. The 24-year-old is ready to write a happy record, and it seems she will soon be aided in her task by getting involved in one of the most happy of life's possible events. She and her partner, Simon Konecki, are going to have a baby together.
Adele broke the news this morning via the Internet, although thankfully not on Twitter. In a blog she simply titled "I've got some news" the singer spoke out about how happy she is to pop out her first child. I sense a song coming on.
The couple's big news has come pretty early in their relationship. Adele and the 38-year-old have only been dating since January, but since Konecki has a 5-year-old daughter whom Adele loves, she seems to have been bitten by the baby bug. Just last month, Adele even told People she wanted to start having kids immediately so she can push out three boys by the time she is thirty. I guess that's one of the perks of winning so many Grammy's. If the "Rolling in the Deep" singer has already accomplished a good chunk of what she has aspired to do, why not tackle a new goal?
I'm not certain the singer will get the three lads she is hoping for, but Pop Blend will keep you posted on the pregnancy—and the baby's sex—in the coming weeks.