Suzanne Somers Undergoes Breast Reconstruction Surgery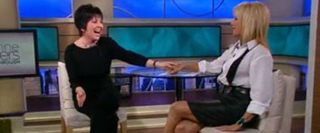 Twelve years ago, a malignant tumor was found in Suzanne Somers' right breast. After radiation treatment and a lumpectomy, her ample figure was a bit lopsided. On the left, she was still filling out a DD-cup, but on the right side she had only enough post-procedure tissue to fill a B. The whole ordeal could certainly be disheartening but Somers seems to be pretty hopeful and upbeat about her quality of life after breast cancer.
Getting into new technology has certainly been a boon for Somers. After looking into a procedure developed by Japanese Doctor Kotaro Yoshimura, Somers decided she would be willing to be one of the first pioneers in the United States to undergo the breast redevelopment surgery, that uses stem cells to help reconstruct new tissue in the chest area. The surgery involved a plastic surgeon taking fatty tissue from Somer's chest area by liposuction. Stem cells from half the fat were mixed with the other half of the actual fat and injected into the breast area.
It sounds like a crazy procedure, but it seems to have worked for Somers. The procedure bumped the 65 year-old grandmother's right breast up to a C and she downsized her left breast to match. According to People, the surgery costs between $14,500 and $19,500 and insurance will often cover some of the costs if the surgery is health-related and not cosmetic. Somers is assertive when she says she believes the surgery is not just about trying something new, however.
Your Daily Blend of Entertainment News
Thank you for signing up to CinemaBlend. You will receive a verification email shortly.
There was a problem. Please refresh the page and try again.