Tameka Raymond's Custody Appeal Is Thrown Out Of Court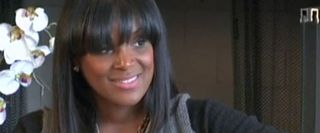 Tameka Raymond has finally hit a wall. The mom had two kids with famed ex-husband Usher, but lost custody just a few weeks ago, and the woman wasn't very happy about it. Earlier this month, the disgruntled mother tried to file a court appeal to get her children back. However, it looks like she tried to take on the wrong judge.
When Raymond filed court appeal papers earlier this month, she claimed the judge who gave Usher custody only did so because Usher's lawyer contributed campaign funds to Fulton County Superior Court Judge Bensonetta Tipton Lane. Usher, of course, came out to say his ex-wife's claims were "tainted," thus starting the couple on the another rigmarole of fighting and bickering.
Today, however, the couple is one step closer to never having to deal with the court system again (hopefully). The same judge who was accused of basically being bribed has asserted that she did receive campaign funds from Usher's lawyer, but that the knowledge is public, and had nothing to do with the court case. According to TMZ, the judge's next move was to dash Raymond's hopes for a retrial and throw the case out of court.
You would think the woman would have been doled enough medicine by now, but TMZ is also noting the woman plans to appeal, again. Fingers crossed the whole ordeal will die down soon, at least for the sake of their kids.
Your Daily Blend of Entertainment News