Watch The Pope Meet A Baby Dressed As The Pope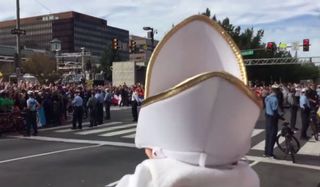 Pope Francis has wrapped up his historic trip to the United States, full of kissing babies and inspiring the masses. There were a number of beautiful stories to hit the internet of the Pope being his good ol' Pope self, but the one that tops them all, has got to be when the Pope met Baby Pope. Seeing a baby dressed as a Pope is amazing in itself. Getting a glimpse of the real Pope's reaction to said baby, is absolutely priceless. Take a look:
The video captures Pope Francis while visiting Philadelphia during the papal parade this past Saturday. The Baby Pope, who also goes by the name Quinn, was desperately awaiting a kiss from the Pope when he caught a glimpse of the infant's adorable outfit, and burst out laughing. Daniel Madden, father to Baby Pope, opened up to ABC 6 about the event which occurred on the Ben Franklin Parkway with his wife Dana and their baby daughter Quinn.
Pope Francis caught a glimpse of the baby, and she was handed off to his security guard so that the Pontiff could give her a kiss. He also whispered to one of his security guards to tell the parents what he thought of the whole scene. Madden told ABC 6:
The video when viral, because of course it did. Who doesn't love an adorable baby with a Pope hat on? But what makes the story even more special was to see Pope Francis' reaction. He already looked like he was in his element waving and smiling to all his admirers. But to see the religious leader candidly LOL is one of the best scenes to come out of his visit.
Your Daily Blend of Entertainment News
Thank you for signing up to CinemaBlend. You will receive a verification email shortly.
There was a problem. Please refresh the page and try again.