At this stage in Taika Waititi's career, the making of Jojo Rabbit practically feels like him showing off. The evolution that he's undergone as a feature filmmaker over the last 12 years is absolutely extraordinary, as his movies never fail to find a stunning balance of humor and heart. Just prior to this movie he proved so on arguably the biggest stage in the world, helming the hilarious and captivating Marvel Cinematic Universe adventure Thor: Ragnarok, but now he has followed up that blockbuster work with what is his best film to date yet.
Being a satire that takes on some serious issues in a serious time, the movie has a high wire to walk as far as balancing tones, but Taika Waititi makes it look absolutely effortless as he dances back and forth on that high wire dressed up as Adolf Hitler. It's a film built with a brilliant script, by a filmmaker with a fantastic and unique vision, working with a cast of amazing stars, all of whom are putting everything up on the big screen in one the best releases of 2019.
Transporting audiences to truly one of the worst periods in human history for a whole lotta laughs, Jojo Rabbit takes audiences back to Germany during World War II, and tells its story through the eyes of Johannes "Jojo" Betzler (Roman Griffin Davis). Jojo is an imaginative, determined, and naïve 10-year-old, and while he is a gentle soul who can't even remember how to tie his shoes properly, he is also a fully-committed nationalist proudly signed up to be a part of the Hitler Youth.
Not truly understanding the stakes of anything he believes, he is infatuated with Nazism, and even has Adolf Hitler (Taika Waititi) as an imaginary friend – albeit not so much a realistic replica, so much as one formulated from the mind of a 10-year-old child. Unfortunately for him, he fails to impress any of officers as his training camp – including the disillusioned Captain Klenzendorf (Sam Rockwell), the toadyish Finkel (Alfie Allen), or the brash Fräulein Rahm (Rebel Wilson) – and things get even worse when a brash overcorrection of sorts during a grenade exercise goes horribly wrong.
With Jojo's dreams of serving as part of Adolf Hitler's personal guard dashed, and kids his age having even more reasons to pick on him, it seems like he might be at rock bottom… but then he discovers a massive secret. His vivacious, supportive, loving mother, Rosie (Scarlett Johansson), has been hiding a Jewish girl named Elsa (Thomasin McKenzie) inside the far wall of his deceased sister's old room.
Believing all of the horrible propaganda spread by Nazis, Jojo is at first terrified by this surprise revelation, and it doesn't help that Elsa threatens the safety of his mother should she be discovered. As his fear wanes, though, he starts to see an opportunity in interviewing the girl in hopes of writing the definitive book on Jews. As they continue to talk, his perspective starts to broaden, while the world around them begins to violently change.
Thanks to geniuses like Charlie Chaplin and Mel Brooks, there is tremendous precedent for this kind of satire, and one of the most incredible things about Jojo Rabbit is that rather than wilting in the shadow of the greats, Taika Waititi has crafted a film worthy of the legacy. He knows all the right notes to hit as he applies his spectacular brand of absurd – never straying too far from reality – and it not only creates regular laugh-out-loud scenes, but also gives him the power to stop your heart with a perfectly applied dramatic beat.
Jojo Rabbit obviously has a particular advantage in its favor given that, as you may have noted, it is outfitted with an outrageously talented ensemble of actors – but what's even more next-level about the work is that the movie both plays to each of their comedic strengths, while also offering impressive character depth. For example, in retrospect it is awe-inspiring to reflect on the trajectory that's experienced by Sam Rockwell's Captain Klenzendorf through the story. We are introduced to him as a half-blind, recently-demoted bumbler who is excessively cynical about the fact that he has to work with children, and it's so easy to imagine a different film only allowing him to play that note over and over again.
Instead, there's a tremendous and subtle transformation that totally changes the way we look at him by the end of the story.
As the lovely Rosie, Scarlett Johansson delivers one of the greatest performances of her career, showcasing a bright, optimistic energy that's not typical of her characters. More than just having the spirit of a mother who wants to do what's best for her child, there is a wonderful theatricality about her that evokes vaudevillian sensibilities – whether she's trying to quietly sneak through a hallway, or quickly applying a charcoal-dust beard from the fireplace so that Jojo can have a chat with his absent father (a scene that also showcases an excessively sweet chemistry between Johansson and Roman Griffin Davis). It's a wonderfully-written role beautifully enhanced by an excellent turn.
Comparing Jojo Rabbit to Taika Waititi's directorial debut, Eagle vs. Shark, it's also amazing to see how far he has come stylistically and developing his personal style. It's not only recognizing how to visually get the most laughs out of a set-up (which he clearly knows), but also playing with character perspective (adding a bit of flair when imaginary Adolf shows up), and establishing stunning foreshadowing imagery that you pick up on over the course of the movie.
To say that Taika Waititi is slowly becoming one of the best filmmakers working today would be a lie, because there is nothing slow about it. The world has recognized his talent, and now he's using that spotlight to show audiences what he can really do. Jojo Rabbit is a showcase of a director at the height of his powers, and it's a remarkable thing to see.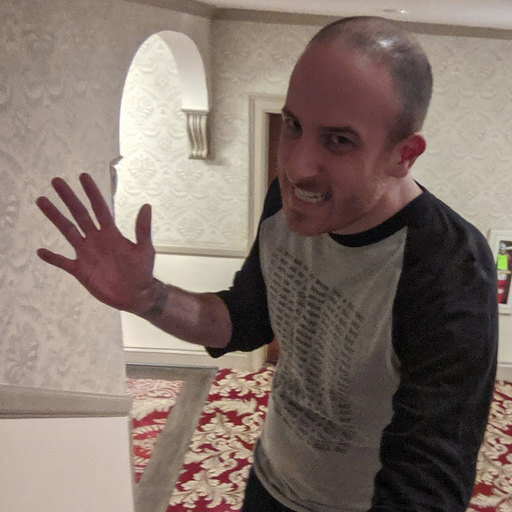 Assistant Managing Editor
NJ native who calls LA home and lives in a Dreamatorium. A decade-plus CinemaBlend veteran who is endlessly enthusiastic about the career he's dreamt of since seventh grade.