Everyone loves a good homage, and the horror genre provides a wonderful wide range of potential influences. Director Peter Strickland is one of those practitioners who loves to dabble in such delights, as seen in his previous films Berberian Sound Studio and The Duke of Burgundy.
This time out, with his latest offering In Fabric, Strickland indulges in both horror and comedy with a tribute to the Giallo subgenre that saw greats like Dario Argento and Lucio Fulci rule the day. And the results are such an oddball delight to watch you might just find yourself sprinting to their works when the end credits roll.
In Fabric primarily focuses on Sheila (Marianne Jean-Baptiste), a bank teller and single mother who's starting to date after her divorce, and is in the market for something stylish during the after-Christmas sale being held at trusted department store Dentley and Soapers. It doesn't take long for her to find the red dress she is looking for, though, the way the film spins the story, the garment at the center of this tale may have found her.
Mysterious rashes, cryptic inscriptions, and domestic strife all make for a particularly potent thematic cocktail that's at play. But on top of In Fabric's story driven bones sits a lovely landscape of sights and sounds, tailor made for the discerning audience.
In Fabric is in love with lush visuals and sound, making for an uber stylish treat.
Strickland's eye and ear are on prime display with In Fabric, as he teams with cinematographer Ari Wegner and the band Cavern of Anti-Matter to infuse every frame of this film with rich textire that make the action on screen pop. From the mysterious opening to its explosive finale, In Fabric holds together strongest when it comes to how it tells it story through the means of visual and sonic cues.
Even the sound quality of the dialogue between the film's characters is something to consider, as everything you hear is presented as triumphantly crisply as humanly possible. Which is perfect, considering you're going to need every clue you can get to ultimately piece together the sum of In Fabric's parts.
In Fabric's story structure is a bit disjointed, with dream logic ruling the tale.
While In Fabric is absolutely breathtaking, its subject matter will definitely take some getting used to. In particular, the way that Shelia's story segues into another section of storytelling within the narrative is something that will throw the more casual movie-goer for a loop. That's not to say that this ruins the fun, but if a viewer isn't totally open to the experience that Peter Strickland is trying to give them, the results of the film may vary from person to person.
What doesn't waver is the craftsman performances given by the film's cast, as Marianne Jean-Baptiste's beleaguered, but absolutely sweet Sheila is put through all sorts of hell as events unfold as a result of her beautiful new dress. Between Jean-Baptiste's unwavering kindness and Strickland's indifferently evil piece of wardrobe running amok, In Fabric winds up being one of the most personal horror pictures on the market today.
A fun and gorgeous throwback, In Fabric is the right fit for those who truly dig the cut of its jib.
It would be a crime not to mention the more comedic side as praiseworthy, since the movie's consistent atmosphere of dread only helps the audience to laugh even harder when a funny curveball is thrown their way. Yes, you will believe a dress can suffocate a caged bird! It's also worth noting that an almost unrecognizable Gwendoline Christie's supporting role of Gwen provides some interesting and humorous conflict for Sheila to deal with, as the character's pretentious art student vibes always clash with the latter's polite sensibilities.
Throw in a pair of performances by Julian Barrett and Steve Oram, as comedic relief bank managers Stash and Clive, as well as Leo Bill's hypnotizing washer repairman Reg becoming a fixture in the film's second half, and you've got a winning combination that unify In Fabric's twin passions of screams and laughter into a solid whole.
In Fabric isn't for everyone, as it's Weird with a capital W; but that's what makes it such a singular viewing experience. Peter Strickland's vision of offbeat horror in the modern age makes for not only a movie that needs to be seen, but an experience that needs to be enjoyed with a crowd. The reactions alone are something that make this project worthy of finding it in a theater near you.
But above all else, you really need to see and hear every inch of this cinematic garb in a place where it's as bright and clear as possible. Your ears will thank you, your eyes will love you, and your body will appreciate the fit of In Fabric.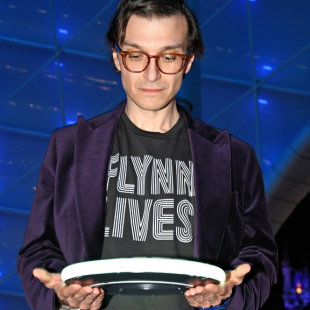 Senior Movies Contributor
CinemaBlend's James Bond (expert). Also versed in Large Scale Aggressors, time travel, and Guillermo del Toro. He fights for The User.