10 Actors You Might Not Remember Being On Freaks And Geeks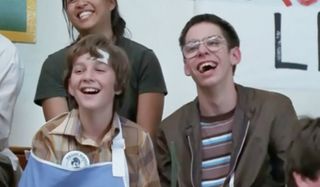 Even though Freaks and Geeks was cancelled after one short season, the ensemble would go on to be one of the more successful casts in television history. All of the titular characters continue to work in Hollywood in some capacity, and a few have even become international superstars. And while the leads have been busy (giving interviews, meeting mothers, streaming blood, living in the valley and taking a vacation), many of the supporting cast members - from bit parts to cameos - have also made names for themselves. Here are ten actors that you might not remember being on Freaks and Geeks.
Shia LaBeouf
Of course, Shia LaBeouf's Herbert is first up. Was there ever any doubt? LaBeouf's turn as the McKinley High mascot who breaks his arm happened well before he was not famous anymore, but the child actor had already done quite a few projects by the time he guest-starred in Episode 9, "We've Got Spirit." Even at that young age, it was pretty clear that this kid was a star in the making.
"When you're climbing 'em, be careful not to pull their hair cause they'll jerk up and you'll fall. Okay. And, and when you're climbing 'em, be careful not to pull their bra straps cause they'll wiggle and you'll fall."
Jason Schwartzman
Looking back, it feels like Jason Schwartzman's part on Freaks and Geeks was a star cameo, but it was actually only the second role of the actor's career. He was the star of Wes Anderson's Rushmore and then he was Howie Gelfand, the guy who sold fake IDs to Linda Cardellini, Jason Segel, James Franco and Seth Rogen's freaks in Episode 7, "Carded and Discarded." Well, technically, sold and then quickly refunded.
"Sorry, Bill Laimbeer. You got some good timing. Just about to get a shipment of genuine Canadian driver's licenses."
Matt Czuchry
Matt Czuchry has come a long way since his brief appearance on Freaks and Geeks as Teenage Guy No. 1. First of all, the character he currently plays - Cary Agos on The Good Wife - has a name; that's always nice for an actor. Not to suggest Czuchry didn't make the most of his bit part on the cancelled hour-long comedy in Episode 9, "We've Got Spirit," as a student from Lincoln High School, McKinley High's big rival.
"These losers are from McKinley! Look what that bitch just did to my car."
Steve Higgins
The Tonight Show with Jimmy Fallon's 'dead weight' Steve Higgins showed up in Episode 18, "Discos and Dragons" as Mr. Fleck, the teacher who supervises the A-V club at McKinley and exposes John Francis Daly, Samm Levine and Martin Starr's geeks to Monty Python and the Holy Grail.
"Let me tell you something about the jocks. Take a seat, fellas. Watch my hand. This is a graph of their lives..."
David Koechner
Several of the Freaks and Geeks would become future Apatow regulars, but some of the show's one-offs also became part of the fold. David Koechner, probably best known for playing Champ Kind in both Anchorman films, appeared in Episode 7, "Carded and Discarded" as a waiter at the Iron Horse, an all-you-can-eat ribs restaurant where the geeks take Kayla Ewell's Maureen Sampson.
"I'll bring 'em faster than you can eat 'em but I want a 20% tip."
Alexandra Breckenridge
Shelly Weaver on Freaks and Geeks was one of the first roles for recent The Walking Dead addition Alexandra Breckenridge. (She's Jessie, the woman who helped Rick get cleaned up in the last episode.) Breckenridge's Weaver shows up in Episode 11, "Looks and Books," as a mathlete on McKinley's math club who doesn't get along with Cardellini's Lindsay once she rejoins the team.
"Don't kid about first block."
Mike White
A few of the comedy's behind-the-scenes creatives showed up during Freaks and Geeks short run - including Paul Feig (creator), Gabe Sachs (writer) and Michael Andrews (composer) as members of Dimension, the eponymous fictional band in the series' sixth episode, "I'm With The Band" - but Enlightened creator Mike White's cameo as Kim's couch-bound brother Chip in Episode 4, "Kim Kelly is My Friend," is my favorite.
"What's happening?"
Lizzy Caplan
Lizzy Caplan's first job as an actor was on Freaks and Geeks and, since playing Sara, she's worked with her former co-stars quite a bit, from a one-off as 'Beautiful Girl' in Undeclared to Agent Lacey, a important supporting player in The Interview. (Not to mention co-starring with Starr in Party Down.) Caplan's Sara showed up in four episodes of the cancelled comedy, harboring a crush on Segel's Nick from the pilot to the finale.
"Yeah, there's an emergency phone call for Lindsay Weir. It's her mom."
Alexander Gould
Before he was Shane Botwin on Weeds (hell, even before he was the voice of Nemo in Finding Nemo), Alexander Gould was Ronnie Johnson on Freaks and Geeks. In his third part ever, the child actor appeared in Episode 13, "Chokin' and Tokin'," as a neighborhood boy being babysat by Sarah Hagan's Millie while she's also watching over the overly stoned and tripping Lindsay.
"Stop cheating! It's my turn to hide now and you're cheating!"
Rashida Jones
Even though she plays quite a large part in Episode 4, "Kim Kelly is My Friend," I always forget that Rashida Jones was on Freaks and Geeks until I see her tear into Daly's Sam and have it out with Busy Philipps' Kim over a little thumb-sucking. I might just have trouble remembering the Toy Story 4 writer as Karen Scarfolli cause she'll always be Ann Perkins to me.
"You swear you're 14? Then you're a geek. This is your locker? There. Now you'll always know which one's yours and which is mine. Okay, geek?"
Your Daily Blend of Entertainment News