12 Days Of Christmas: Blackadder's Christmas Carol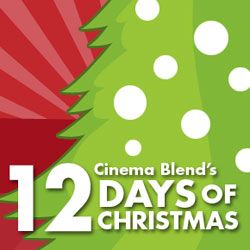 It's time to celebrate the Christmas/ Chanukah/ Kwanza/ Festivus Holiday season, so all around Cinema Blend we're enjoying Twelve Days of Christmas. Yes, we know traditionally the "12 days" start with Christmas, but we plan on being celebrated out by that time, so we're pushing the twelve days leading up to the holiday.
Here in Blend Television we're celebrating by counting down our some of our all time favorite holiday episodes, in an effort to boost your Christmas spirit. These aren't the 12 best out there by any means, just twelve of our favorites. Some of them you might enjoy like we do. Others you might want to check out for the first time. So without further ado:
On the fourth day of Christmas, my true love gave to me…
Rowan Atkinson as Blackadder.
I love Blackadder's Christmas Carol because it combines a few of my favorite things. First, it is a variation on my all-time favorite yuletide stories: Charles Dickens' A Christmas Carol. Second, it tells the story in a very twisted way, one that you almost never see during the holiday season, namely, as Ebenezer Blackadder says, "Bad guys have all the fun."
In this version, Ebenezer Blackadder is not the miser of the Dickens story. This time, he is actually the nicest man in all of Victorian England, who gives nearly everything he has away at Christmas. As a reward for all of his good work, a ghost shows him how awful his ancestors were in the form of clips from previous seasons of Blackadder. The problem is the more Ebenezer sees, the more he thinks that being a terrible person would work in his favor. Finally, he is shown the future, where Blackadder is shown as being the lowest scum in the futuristic universe.
By the end, the story has been put completely on its head and Blackadder starts treating everyone as mean possible on Christmas, and ends up insulting most of the characters, including two very important members of the Royals. What I love about Blackadder's Christmas Carol is that since its main character has always been a scheming backstabber, why should the Christmas episode show him being all lovey-dovey?
If you're a fan of British comedy, this is a must-see episode. And if you're tired of the same old saccharine specials, this is a good escape when you've had you're fill of goodwill towards men. And how many other specials have a punch in the face being given like a present?
Blackadder's Christmas Carol Pt 1
Blackadder's Christmas Carol Pt 2
Blackadder's Christmas Carol Pt 3
Blackadder's Christmas Carol Pt 4
Blackadder's Christmas Carol Pt 5
Read all of Cinema Blend's 12 Days of Christmas features in other sections by clicking here.
Your Daily Blend of Entertainment News