Watch Ice Cube, Lil Jon And More Hilariously Make Their Songs Kid-Friendly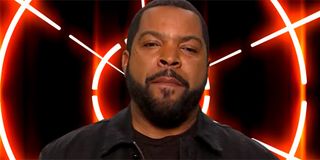 Jimmy Kimmel's a music fan. So is his two-year-old daughter. However, a lot of the music that Kimmel likes isn't particularly age appropriate for his kid. Thus, he teamed up with some of the rappers and hip-hop artists he is fond of to a create a new version of Kidz Bop that replaces dirty lyrics in rap songs with totally tame ones. The results are quite frankly hilarious and you can give the video compilation of the new tracks a watch, below. There are some bleeped out curse words and one use of the word "bitch" prior to the tame tracks, so keep that in mind if you are at work!
Ice Cube's down with kiddie music, and in the video he reworked "Today was a Good Day" so that the "little homies" could finally get to listen to one of his most famous tracks. The new version? "Snow Day." Lil Jon also gives us new lyrics for "Get Low," joking that we would never have believed that his extremely detailed and dirty song could be turned into something tame. Turns out, it can be made kid-friendly, but only if the kids are singing about a different kind of balls: tetherballs.
Ty Dolla $ign, Big Sean and A$AP Rocky also rework songs for Jimmy Kimmel Live, with Ty Dolla $ign's "Paranoid" being turned into a new song about some kids who are worried about getting into trouble with their mothers. A$AP Rocky's "Fucking Problems" becomes a song about toy trucks, leaving the kids to sing ridiculous lyrics about their "Trucking Problems." Big Sean's "I Don't Fuck With You" becomes "I Can't Tie My Shoes," which is made even more hysterical because the age of the average kid in this video is like 10 and better damn well be able to tie their shoes. Perhaps most amusing of all, NWA's "Fuck the Police" is subverted to become"Hug The Police."
Sometimes Kimmel really does have the wildest and wackiest of ideas. I don't know who came up with this particular sketch, but if you have kids, it's really, really funny. And if you don't, it's probably still worth a giggle or two.
If you're really in the mood to backlog some other Kimmel sketches, there's always "LieWitness News" and "Mean Tweets," or you can check out my personal favorite, which is when Kimmel was pranked by Rihanna while sleeping in his bed at home. Or you can check out the prank war he engaged in with John Krasinksi.
New episodes of Jimmy Kimmel Live air weeknights on ABC at 11:35 p.m. ET.
Your Daily Blend of Entertainment News
Reality TV fan with a pinch of Disney fairy dust thrown in. Theme park junkie. If you've created a rom-com I've probably watched it.