Why Last Man Standing Is Almost Certainly Done For Good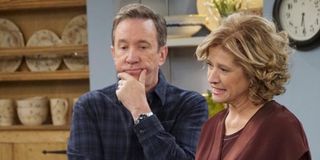 Spring can be a bloodbath in the TV world each year as networks choose which series to renew and which series to cancel. One of the biggest surprise cancellations of the 2016-2017 season was ABC sitcom Last Man Standing, which got the axe when ABC and production company 20th Century Fox failed to hammer out a deal that would have brought the show back for a seventh season. Fox presidents were attempting to find a new home for Last Man Standing in the wake of the ABC cancellation, but we now have reason to believe that the Tim Allen comedy is done for good.
News broke last week that CMT was looking to revive Last Man Standing for a brand new season. As it wouldn't be the first time that CMT rescued an ABC show from cancellation, fans had reason to hope. Unfortunately for them, Deadline now reports that CMT will not be picking Last Man Standing up for a new season. Negotiations between CMT and 20th century Fox fell through when the two parties could not agree on costs. A move CMT would have resulted in cutting costs, including salaries of the stars, and that evidently wouldn't fly.
Of course, even if Tim Allen and Co. had agreed on pay cuts, the cost of the series undoubtedly would have been high as a multi-camera comedy. The high cost is a big factor (although not the only one) in why ABC decided to cancel Last Man Standing in the first place, and ABC has deeper pockets than CMT as one of the Big 3 networks. CMT was only able to renew Nashville because Hulu helped foot the bill in exchange for the rights to stream episodes the next day after they air live.
CMT was not the first network to consider rescuing Last Man Standing from permanent cancellation. Fox reportedly tried to find a way to bring it back in the fall, even going so far as to try and find a slot in the schedule where it could work. Apparently, Fox was not able to fit a multi-camera comedy into its lineup, and it's out of the running as well. Despite the best efforts of execs at 20th Century Fox, Last Man Standing is almost certainly finished for good.
It's not surprising that networks considered picking up Last Man Standing, however, even knowing the high cost of production. Fans immediately reacted to the cancellation by starting an online petition, which has won nearly 400,000 supporters by this point. It has also become the highest-rated new syndicated comedy, only coming in behind ratings juggernauts The Big Bang Theory, Modern Family, and Two and a Half Men in syndication. Repeat episodes have done well on both CMT and Fox, so they could have been good homes for the series if only a deal could have been worked out.
Last Man Standing was hardly the only show to get the axe in the 2016-2017 TV season, so be sure to drop by our rundowns of the cancellations on broadcast and cable/streaming. For what you can still watch, our summer TV premiere schedule will help you out.
Resident of One Chicago, Bachelor Nation, and Cleveland. Has opinions about crossovers, Star Wars, and superheroes. Will not time travel.
Your Daily Blend of Entertainment News
Thank you for signing up to CinemaBlend. You will receive a verification email shortly.
There was a problem. Please refresh the page and try again.