8 NCIS Characters That Need To Come Back ASAP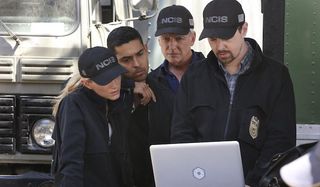 Still one of broadcast TV's biggest hits, NCIS has been on the air for over 14 years, during which time Leroy Jethro Gibbs and his team have met a lot of people while solving cases. Some of these faces became more familiar than most, and if you look back on the CBS show's history, you'll remember numerous side characters outside of the main ensemble who've left their own meaningful impact. Certain folks still appear on NCIS every so often, like Tobias Fornell and Anthony DiNozzo, Sr. But there are many more who haven't reappeared in a long while, for one logical reason or another.
With that in mind, we've gathered together a bunch of recurring NCIS characters who are definitely due for a return after years away. To be clear, all of the following candidates are characters who were still alive when they last appeared, since someone biting the dust on a show like NCIS usually means it's the last we'll see of them. (Although that being said, we do always appreciate when Mike Franks' ghost pops by to have a few words with his "probie.")
Abigail Borin
Abby Sciuto isn't the only Abigail that Gibbs and the gang are chummy with on NCIS. From 2010 to 2014, CGIS (Coast Guard Investigative Service) agent Abigail Borin occasionally worked with the main characters on cases that concerned both agencies. Besides being an excellent investigator, Diane Neal's Abigail was always fun to watch because of her similarities with Gibbs, from the no-nonsense attitude to the love of coffee. Abigail showed up more recently on NCIS: New Orleans, but it's about time that she works with the flagship team again. Not only is her back-and-forth with Gibbs fun to watch, but it would be nice for (relative) newcomers Nick Torres and Clayton Reeves to finally meet her.
E.J. Barrett
Following her time as the special agent in charge of NCIS's Rota, Spain team -- a position originally offered to Tony DiNozzo -- Erica James "E.J." Barrett was introduced in Season 8 as the leader of the agency's new, hotshot Washington D.C. team. E.J.'s teammates, Gayne Levin and Simon Cade, were both killed; the former by Jonas Cobb (a.k.a. the Port-to-Port Killer) and the latter by Simon Cade. E.J. managed to escape both threats that came her way during Seasons 8 and 9, but her experiences led her to leave NCIS behind and spend more time with her family. While we don't expect she would ever permanently rejoin NCIS, it would be great if she's return at least once more, perhaps to consult on one of her old cases. E.J. getting reunion with Tony would be extra-fabulous, but since Michael Weatherly is busy with Bull these days, that's unlikely to happen.
Samantha Ryan
Gibbs hasn't had many romantic relationships on NCIS, but he definitely had chemistry with Jamie Lee Curtis' Dr. Samantha Ryan, the director of the Department of Defense's PsyOps. The pair did their best to not let professional encounters interfere with their personal relationship, but as time wore on, Gibbs grew suspicious that she was holding back important information from him. Eventually, their courtship collapsed like a house of cards when Season 9's main antagonist, Harper Dearing, was able to free Samantha's dangerous ex-husband from prison. Fearing for both her and her son's lives, she left town so they could stay safe. Given that Jacqueline "Jack" Sloane joined NCIS this season as this branch's operational psychologist, we're not expecting Samantha to swoop in and kick Jack out of the position. But her return would allow resolution to her time with Gibbs, just like we got with Tony and Jeanne Benoit.
Rachel Cranston
Years after Caitlin Todd was killed by Ari Haswari, psychologist Rachel Cranston visited the NCIS team to perform mandatory psychological evaluations on the agents. Later in the episode, it was revealed that Rachel was Caitlin's older sister, and that she visited the team in an effort to find closure over Caitlin's death. Rachel has popped up a few more times to help some of our main characters in times of personal crisis, and she last appeared in Season 11 to council McGee after Delilah Fielding, his then-girlfriend/now-wife, was paralyzed by shrapnel during a bombing. As mentioned earlier, NCIS is already covered on the professional psychologist front with Jack Sloane, so Rachel' return would have to be for more personal reasons, such as a connection to one of the team's cases.
Stan Burley
Before Tony DiNozzo joined NCIS, Gibbs' partner was Stan Burley, but by the time the CBS series started, Stan had been transferred out as an agent afloat. After appearing in one Season 1 episode, Stan didn't appear again until Season 9, and has since appeared twice more, in Seasons 10 and 13. Even though it's been a long time since Stan regularly worked with Gibbs, the few times they have reunited still resulted in a good dynamic for fans to enjoy. While the main reason for bringing Stan back would obviously be so he could aid the team in another case, it would be worthwhile to learn a little bit more about his personal life during his fifth appearance. Has he settled down with anyone, or are his NCIS duties still taking up the majority of his life?
Cyril Taft
When Gibbs was shot by Luke Harris in the Season 12 finale, Cyril Taft was the doctor who operated on him in the Season 13 premiere. After Cyril successfully performed the surgery, one might've thought it would have been Cyril's last encounter with Gibbs, but some episodes later, the two of them struck up a friendship. Cyril helped Gibbs deal with his post-shooting mental struggles, and Gibbs learned how Cyril is still struggling with his son's death. But it eventually came time for Gibbs to meet with a psychological professional, so Cyril directed him to therapist Grace Confalone (who has also become a recurring character). Cyril hasn't been seen since, and while we imagine his friendship with Gibbs has fallen by the wayside, hopefully they could somehow reunite during one NCIS case to re-establish that connection they had built.
Margaret Allison Hart
Rena Sofer's Margaret Allison Hart was a defense attorney that Gibbs and his team kept running into during NCIS Season 7. She was originally working for Merton Bell, one of the season's recurring antagonists, and her dynamic with Gibbs was initially hostile. As the episodes passed, Margaret and Gibbs started to warm to each other despite being on opposite sides, and towards the end of Season 7, when Bell and the Reynosa siblings were attempting to exact revenge on Gibbs, Margaret helped by intercepting the forensic report that proved Gibbs assassinated Pedro Hernandez, the man who killed his wife and daughter. It's been nearly 10 years since that plot line wrapped up, but nevertheless, it would be worth bringing her back as someone else's legal representative as an excuse to see if there are any more sparks between her and Gibbs.
Richard Parsons
Richard Parsons debuted towards the end of NCIS Season 10 as the investigator that the Department of Defense's Inspector General assigned to look into how Gibbs and his team resolved the Ilan Bodnar case. But it soon became clear that Parsons' investigation was personal, and we learned that he was primarily after Gibbs, determined to see our protagonist held accountable for everything he'd done "wrong" over the years. Fortunately, Parsons changed his mind about Gibbs after one live-saving situation, later dropping the investigation and allowing Tony, Ziva and McGee to return to duty. Now that Gibbs and Parsons are on good terms, with that ugliness years behind them, perhaps they could cross paths again, this time working together from the get-go.
There are definitely more NCIS characters we'd like to see returning, with Tony DiNozzo right around the top of that list. Watch NCIS on CBS on Tuesdays at 8 p.m. EST to see if any former friends show up soon. Look through our 2018 midseason premiere guide to see when your favorite shows will return, and check out our 2017 cancellation guide to see which shows have already passed on.
Connoisseur of Marvel, DC, Star Wars, John Wick, MonsterVerse and Doctor Who lore. He's aware he looks like Harry Potter and Clark Kent.