Every TV Show Cancelled In 2017 So Far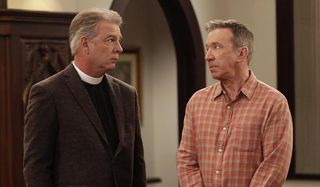 Well, the 2017 television year is almost at a close, and, just like every year prior, there were a wide variety of shows that didn't make it out alive. In some cases news that these programs would be ending in 2017 had been announced ahead of time, but, more likely, the shows were either pulled from the schedule never to return or cut loose after whatever season they were on ended. Just because there are more TV shows than ever doesn't mean that all of those shows are extremely successful and capable of lasting until the end of time. (What show is, really, besides The Simpsons and 60 Minutes?) So, let's take a (long) look at everything that's been cancelled or ended as previously announced so far this year, shall we?
Sense8 (Netflix) - Cancelled in June, Ending in 2018
Easily one of the most controversial TV cancellations in 2017, Sense8's first fate-changing announcement pissed off just about everyone within the show's limited-but-steadfast fanbase. The globe-trotting sci-fi drama told a complex and intriguing tale of connection and acceptance that spoke to societal groups that don't often get main-character recognition on TV. And after almost a full month of fan backlash, Netflix announced that Sense8 would get the chance to deliver a proper sendoff with a two-hour "movie" finale to be aired in 2018. It's amazing what TV fans can do sometimes.
Blood Drive (Syfy) - Cancelled in September
One of the craziest shows on TV in 2017, this grindhouse throwback was well-received by fans, although it didn't gain the largest viewership during its single season. Syfy decided to cancel the series before its first season had finished airing, and creator James Roland announced the sad news on the night of the Season 1 finale.
@midnight (Comedy Central) - Ended in August
One of roughly 200,000 shows that Chris Hardwick has hosted in the past few years, @midnight was a game show where the results of the competition were less important than the joke-hemorrhaging hashtags that fans would frequently use after each airing. (Or the spoilers that Robert Kirkman would blurt out.) After 4 seasons, the comedian-filled series met its fate after Hardwick and Comedy Central mutually agreed to call it quits, with Episode 600 being its final one.
The Odd Couple (CBS) - Cancelled in May
Marking the seventh time Neil Simon's play was adapted for screens big or small, CBS' The Odd Couple is the most successful TV show that Matthew Perry has been a part of in his post-Friends career. But this sitcom didn't get either the critical attention or the viewership that Friends did even in its worst seasons, and CBS evicted the well-cast series after three seasons. Though not before keeping fans waiting with bated breath to get an official decision.
Regular Show (Cartoon Network) - Cancelled in 2016, Ended in January
One of the best buddy cartoons to ever get created -- yeah-yuh! -- Regular Show lasted for eight oddity-filled seasons, with Cartoon Network deciding last year to cancel the series, with the then-unaired Season 8 serving as its swan song. It was quite a space-faring way to cap the series off, too, with the super-sized finale ("A Regular Epic Final Battle") airing back in January, complete with Robert Englund reprising the role of Anti-Pops.
The Carmichael Show (NBC) - Cancelled In June
Co-created by and starring comedian Jerrod Carmichael, NBC's sitcom The Carmichael Show had quite an eventful run in its three seasons. The series often tackled societal issues in successful ways, and even though it was a hit with critics, there was obvious tension between Carmichael and some at NBC. Things came to a head whenever the network delayed a shooting-centered episode after the tragedies in Virginia and San Francisco in June 2017. The actor wasn't pleased, and it wasn't long before he announced he was exiting the show, with his contract being up. NBC cancelled the show soon after.
Doubt (CBS) - Cancelled in February
Following her controversial exit from Grey's Anatomy, actress Katherine Heigl first attempted a TV comeback with the short-lived NBC political drama State of Affairs, and then jumped to CBS for the legal crime drama Doubt. Unfortunately, the latter ran for only two episodes before getting yanked off the primetime schedule and being subsequently cancelled, making it the first big broadcast network axing of the year. CBS later running the remaining 11 episodes on Saturday nights, without much fanfare involved.
Girl Meets World (Disney Channel) - Cancelled in January
Fans of the Disney Channel original comedy Girl Meets World had their hearts broken when it was announced the channel would not be moving forward with a Season 4 order. A spinoff of the popular TGIF sitcom Boy Meets World, the Disney comedy was very good about mixing former cast members into the bunch, and it had quite a vocal fanbase. However, the ratings dipped across its three seasons, and despite the fervent efforts of its creative team to find Girl Meets World a new home, the Matthews family adventures are a thing of the past.
Orphan Black (BBC America) - Ended in August
One of the more unique and engaging sci-fi dramas of the modern age, Orphan Black got five seasons to tell its complex and clone-filled story, with star Tatiana Maslany gaining a massive fandom for her distinct portrayals of all the different seestras. And rather than getting to a point where the wheels were spinning empty yarns, BBC America and Space set up Season 5 to be the final batch of episodes, giving creators John Fawcett and Graeme Manson the chance to cap things off in the best way possible, although it could have used more dance parties.
Downward Dog (ABC) - Cancelled in June
After her award-winning turn on FX's Fargo, actress Allison Tolman next flipped to a network half-hour comedy for ABC's sorta-summer series Downward Dog. But there wasn't much bluster behind its mid-May debut, and six episodes into its eight-episode run, ABC cancelled Downward Dog, which aired its last two episodes a few days later. (It was one of the rarer times where a significant section of back-to-back episodes' audience stops watching after the first one ends.) While reviews were on the "fine" side, the numbers were not on this show's side.
Bones (Fox) - Ended in March
For twelve mystery-driven seasons, Fox boasted one of the most successful primetime procedural dramas that wasn't created by Dick Wolf. And though ratings drooped in later years, Bones never lost steam with its more dedicated fanbase who never tired of watching Emily Deschanel and David Boreanaz being cutesy together while solving bone-related crimes. Fox decided that Season 12 would be the final one, and that shortened batch of episodes culminated in a crazy finale that ended on a heartwarming note. And for what it's worth, Boreanaz is not interested in any future Bones reunions.
Halt and Catch Fire (AMC) - Ending
It's not easy to think about any TV shows that covered the same kind of storylines as Halt and Catch Fire, which centered on the boom of personal computers in the 1980s, as well as the early days of the World Wide Web. (Along with various forms of personal drama, of course.) Halt and Catch Fire only seemed to build upon its already solid acclaim from season to season, though low ratings eventually sealed its fate, with AMC's Season 4 renewal coming with the caveat that it was the final season. And it was arguably the most well-received season of the bunch, too.
24: Legacy (Fox) - Cancelled in June
One of the more highly anticipated TV spinoffs in recent years, Fox tried to revive its hugely successful action drama 24 without the presence of leading man Keifer Sutherland as Jack Bauer. The results were enjoyable, but 24: Legacy wasn't on par with the franchise's best years, and it only takes a cursory look at the ratings decline to figure out that viewers weren't so keen to find out how Corey Hawkins' Eric Carter and others saved the day. And, though it seemed like the series might live on in an altered format, Fox called it quits after one season.
Bates Motel (A&E) - Ended in April
While Bates Motel initially seemed like a strange idea for a series, since Norman Bates isn't your everyday primetime TV character, the drama was highly acclaimed during its five-season run. Because it wasn't exactly a story that necessarily stretched across a massive timeline, the creative team initially had a five-season plan for Bates Motel, which A&E was happy to comply with. And it was mutually decided that the deadly drama was good to end after Season 5.
The Strain (FX) - Ended in September
Based on the three novels co-authored by Guillermo del Toro and Chuck Hogan, The Strain managed to stretch out the central tale of Humans vs. Strigoi for four blood-soaked seasons. That was a good sign of FX's faith in the horror drama, since viewership for The Strain fell off dramatically in its later seasons. But the channel did give the creative team the chance to end things with a purpose by announcing the show would end on Season 4.
Dr. Ken (ABC) - Cancelled in May
Dr. Ken may have not exactly been a ratings winner for ABC during its two seasons on the network, but it did bring in surprisingly decent and consistent numbers for a show that aired on the dreaded Friday night of the schedule. The Ken Jeong comedy, which focused on the former actual doctor mining that profession for laughs, had numbers that were just good enough for Fridays, that is, until May when ABC decided to cut the show loose. At least Dr. Ken was able to bring on Community creator Dan Harmon for an awesomely meta cameo in (what turned out to be) the series finale.
Son of Zorn (Fox) - Cancelled in May
Fox likely had high hopes for Son of Zorn, as it came from Lego Movie directors Phil Lord and Chris Miller and was the first show they produced after their success with the network's The Last Man on Earth. The half-live-action, half-animated comedy about a barbarian from a mythical land who moves to Orange County, California got great debut numbers, but lost viewers in droves afterwards. When the Season 1 finale drew only 1.5 million people, it was almost a given that the network would get out of the Zorn business, and Fox didn't waste much time doing exactly that.
Review (Comedy Central) - Ended in March
Shows that end after the third season are typically cut down in their prime by a cruel network, but in the case of Review, the decision to end with a truncated Season 3 came from the joint desire of creator/star/producer Andy Daly and Comedy Central. The show, which focused on a professional critic who reviewed real life experiences, was much loved by critics, but audiences never really found the show, with Season 2 numbers dipping to an average of 258,000 viewers.
Teenage Mutant Ninja Turtles (Nickelodeon) - Ending in November
Everyone's favorite Ninja Turtles have been a TV staple since the 1980s, so it was no surprise when Nickelodeon brought them back with the CG animated Teenage Mutant Ninja Turtles series in 2012. What was a surprise was the announcement in March that the show would be ending with its fifth season, and that the network had already replaced the show with yet another version of the same story. The current Ninja Turtles series will wrap up with a slightly shortened Season 5 run this November, and fall of 2018 will see the debut of Rise of the Teenage Mutant Ninja Turtles.
Underground (WGN America) - Cancelled in May
Here's a case of simple bad timing leading to the cancellation of a series. While Underground had solid ratings and good buzz along with notable critical praise for its two seasons on WGN America, the show was dropped as part of a move in a different direction for the network. And, that move came along because WGN's parent company, Tribune Media, was bought by Sinclair Broadcast Group just weeks before the cancellation. According to Sinclair's CEO, the ratings for WGN's shows didn't justify what the network was spending on them, and so, Underground was cut loose.
Episodes (Showtime) - Ended in October
After four seasons of watching Matt LeBlanc play, well, Matt LeBlanc, in the send-up of Hollywood that was Episodes, Showtime and the creators of the comedy decided that their story was told. The series was praised by critics and netted 10 Emmy nominations during its time on the air, and also a Golden Globe win for Matt LeBlanc in 2012. Season 5 of Episodes debuted in August and the series wrapped its run in early October.
2 Broke Girls (CBS) - Cancelled in May
Most cancellations come down to either money or ratings, and in the case of the CBS comedy 2 Broke Girls, both factors seem to have been in play. By the time Season 6 came to an end in April, the ratings were nothing to write home about, with only 5.62 million viewers tuning in on average. Those numbers, coupled with the fact that CBS had to foot the bill for production on the show without seeing any of the syndication profits, probably led to the cancellation.
The O'Reilly Factor (Fox News) - Cancelled in April
After reports came out that host Bill O'Reilly had paid five women to keep quiet about allegations of sexual harassment, the ratings for The O'Reilly Factor went up by about 20 percent. But, then, O'Reilly went on vacation, and with the bigwigs at Fox likely really, really tired of all the allegations of sexual misconduct coming to light in recent months, they decided not to welcome the host back from his time off and gave Tucker Carlson his spot. O'Reilly's ousting brought an end to his time with the network, where he'd been a mainstay since 1996.
The Mindy Project (Hulu) - Ending in November
Following the end of The Office on NBC, star Mindy Kaling jumped to Fox for the silly-yet-still-emotional comedy The Mindy Project, which lasted three seasons before Fox cancelled it. Streaming service Hulu stepped in to save the day, and after three additional seasons of Mindy's complicated love-life and work-life, The Mindy Project is saying goodbye once again, this time for good. Hulu made the announcement whenever Season 6 was ordered, so Kaling and her creative team had ample time to figure out how Mindy's story will wrap up.
Black Sails (Starz) - Ended in April
Robert Louis Stevenson's Treasure Island is one of the most beloved books of all time, and its timeless story got expanded in a big way for Black Sails, a swashbuckling drama that appeared to have a bottomless budget at Starz. After three seasons of high seas drama, Starz put in a renewal for Season 4 and simultaneously announced Black Sails would end after that batch of episodes. Bittersweet for the show's dedicated (if not enormous) fanbase, but at least its ending was pre-planned and intentional.
Salem (WGN America) - Cancelled in 2016, Ended in January
Back in 2014, WGN America decided to get into the scripted programming game in a rather unintuitive way, by ordering up the supernatural period horror Salem, centering on the notorious Salem Witch Trials that took place in the 1600s. While the first season was celebrated for bringing in the channel's biggest viewership ever at the time, WGN America chose to later cancel Salem in the middle of its third season, which finished airing back in January. For what it's worth, though, Salem actually outlasted all of WGN America's other original shows, such as Manhattan and two other shows on this very list.
Last Man Standing (ABC) - Cancelled in May
One of the most contentious cancellations of 2017 happened when ABC shocked millions of fans by dropping the axe on Last Man Standing, the post-Home Improvement sitcom from comedian Tim Allen. Last Man Standing was performing about as well as a comedy could in Friday night primetime, but ABC explained the decision by saying they were shifting away from Friday night comedies in the future. Still, fans protested the choice, calling it a political decision to hurt the conservative-leaning Allen. There was a small chance the comedy could have ended up on CMT, but apparently Last Man Standing was too pricey, and so its six-season run is all we've got.
Longmire (Netflix) - Ending in November
Along with Justified, Longmire will likely long be celebrated as one of TV's best neo-westerns, telling the story of Robert Taylor's archetypical Walt Longmire and all the ups and downs of life in Absaroka County. Longmire started off as an A&E series, where it lasted for three seasons before getting cancelled there, at which point Netflix earned a lot of thankful fans' praise when it picked up Longmire for new seasons. Unfortunately, that partnership will soon be coming to an end, as Netflix's Season 6 order was coupled with the news that it would be the show's last one with the streaming giant.
Workaholics (Comedy Central) - Ended in March
Back in 2011, it's likely that not a lot of people would have expected Workaholics' trio of weed-schmoking slackers to turn the show into one of cable's longest-running comedies in recent years. And Comedy Central likely would have wanted to keep it going for even longer, but creators Adam DeVine, Anders Holms, Blake Anderson and Kyle Newacheck actually came to the decision themselves that Season 7 would be the last. As such, they got to wrap things up in a way that both kept the status quo intact, and also kept things open-ended enough for a potential return in the future.
Dark Matter (Syfy) - Cancelled in September
In the past few years, Syfy has made a dedicated effort to return to the kind of science fiction programming that it was named for, and while the futuristic space drama's weekly audience was never the most impressive, its fanbase was as faithful as they come. But after three seasons, Dark Matter was cancelled by Syfy, and co-creator Joseph Mallozzi later revealed that one of the main reasons the show got cancelled is because it was an acquisition and not a proper Syfy original series, making it less financially lucrative for the network. There are hopes that someone else will head to space with a fourth season of Dark Matter, but it hasn't happened yet.
Survivor's Remorse (Starz) - Cancelled in October
Being executive produced by an NBA superstar (LeBron James, to be exact) almost certainly helped generate buzz for Survivor's Remorse when it debuted in 2014, but the dramedy never really caught on with fans the way some of Starz other recent offerings did. The show, which followed a recent NBA recruit and his family as they adjusted to the high-rolling lifestyle his professional athlete status now allowed for, only managed to get over a million viewers once across four seasons, and, in the end, that just wasn't enough for the network. The series was cancelled just a few days before the Season 4 finale aired.
Celebrity Name Game (Syndication) - Ended in February
Game shows aren't automatic winners like they once were, even when they have big names attached as host like Craig Ferguson. The former late night talk show host (who won consecutive Daytime Emmy Awards for best game show host for the first two seasons) helped guide two, two-person teams, each with a celebrity guest player, through the process of trying to guess the names of a variety of pop culture subjects like fictional characters and celebrity names. While fun, Celebrity Name Game didn't connect with viewers quite as well as FremantleMedia North America, which distributed the show internationally, had hoped and the show was cancelled during Season 3 last December.
The Vampire Diaries (The CW) - Ended in March
Seven seasons is a good, long run that those involved with any TV show would hope for, so when Vampire Diaries creator Julie Plec announced that the supernatural drama would end after its eighth season at San Diego Comic-Con in 2016, few were totally surprised. The series had lost one of its main characters when star Nina Dobrev left the show a few seasons prior, and ratings were not as strong as they had been. Before the official announcement, there had been rumors that the end was nigh, but at least an agreement between the network and the show's creative team meant that fans were able to get a real ending to a show they helped support for so many years.
Chicago Justice (NBC) - Cancelled in May
Super producer Dick Wolf is well known for his dramatic police procedurals like the many-tiered Law & Order franchise, and when he branched out into shows about first responders in Chicago with Chicago Fire, Chicago P.D. and Chicago Med, it only made sense to keep the train rolling with Chicago Justice. Set, obviously, in the same world as the other Chicago shows (and Law & Order, for that matter), the series followed the team of investigators and lawyers behind the Special Prosecutions Bureau who sought to bring perpetrators of the city's most attention grabbing cases to justice. While not a ratings or critical failure, Season 1 of Chicago Justice was middling, at best, in both respects, so it does make some sense that NBC would want to cut ties with the show before things went from so-so to out right bad.
Imaginary Mary (ABC) - Cancelled in May
Imaginary Mary had quite a few good things working for it when it came together at ABC. It was co-created by former Just Shoot Me! writer/producer and Community producer David Guarascio, The Goldbergs creator Adam F. Goldberg and Feast (short film) writer/director Patrick Osborne. With obvious similarities to Drop Dead Fred, It starred Jenna Elfman as a woman reconnecting with her imaginary friend from childhood, Mary, as voiced by Rachel Dratch. But the final product was less than ideal, and ABC seemed to know it, delaying the project and slicing its episode order before its debut -- which was supposedly tied to animation issues -- and Imaginary Mary was cancelled after seven of its nine episodes aired.
Baby Daddy (Freeform) - Cancelled in May
As the longest-running comedy on Freeform, it seems that Baby Daddy was another casualty of changing network tides when the series was cancelled just a few days before the Season 6 finale. The half-hour, which focused on a young man who raises the baby left on his doorstep after a one night stand, began before the network rebranded from ABC Family to Freeform and also predated the current network president. There are rumors that the network was all but guaranteed to extend the sixth season by a few episodes, but suddenly decided not to when the college-set Black-ish spinoff became a possibility for Freeform, which led to the cancellation. At least creator Dan Berendsen knew the show was on the bubble, and was able to craft a Season 6 ender that wrapped up the story nicely.
Playing House (USA) - Cancelled in October
Created by co-stars Lennon Parham and Jessica St. Clair, the USA comedy Playing House was based in part on the duo's friendship, making their respective characters Maggie and Emma all the more natural onscreen as their lives are changed through raising Maggie's newborn baby together. Season 3, which even incorporated St. Clair's real-life breast cancer diagnosis into its story, saw the overall viewership continue dipping, and it was in October that Parham and St. Clair delivered a gracious video message to fans that USA had cancelled the expertly cast show.
Sleepy Hollow (Fox) - Cancelled in May
Well, here's a cancellation that was hardly a surprise. After a standout Season 1 that grabbed critics and viewers alike, each successive season of Sleepy Hollow became more frustrating for audiences and the ratings reflected that. When series star Nichole Beharie abandoned ship at the end of Season 3, it was a bit of a shock to see Sleepy Hollow renewed. The supernatural drama tried to rebuild itself with new cast members and a new setting for Season 4, but fans weren't happy to be without the core team that made the show so strong in the beginning. Add to that the fact that Fox shuttled the show to Friday nights, and it was almost a given that Season 5 would never happen.
The Mist (Spike) - Cancelled in September
Stephen King's name was everywhere in 2017, from IT's massive success to Netflix's pair of features to Mr. Mercedes to his actual book release. But not everything was hunky dory for King adaptations, and Spike's markedly different-from-the-novella horror drama The Mist was even less successful than The Dark Tower. The series, developed by famed Danish TV creator Christian Torpe, brought modern social issues to the monster-filled narrative, but without the kind of nuance necessary to keep audiences invested in seeing what happened next. Low ratings, coupled with a retooled view on scripted programming at Spike (soon to be Paramount Network), led to The Mist getting sent out into the foggy yonder after Season 1 was completed.
Frequency (The CW) - Cancelled in May
Some film-to-TV remakes do well, while others don't. Perhaps if the creative team behind Frequency could have been able to talk to someone in the future via ham radio, it would have known that recreating this emotional family drama wouldn't have resulted in a huge success for The CW. Starring Peyton List and Riley Smith as daughter and father detectives communicating across two different timelines, Frequency never managed to build up a very sizable audience across its 13-episode run, and it was cancelled a few months after Season 1 was completed. Thankfully, The CW did release an epilogue video sharing characters' fates, which is something more cancelled shows should get to do.
Samurai Jack (Cartoon Network) - Ended in May
Back in 2004, the beloved Cartoon Network series Samurai Jack came to a close without actually wrapping its storyline up, and fans seethed for 13 years before creator Genndy Tartakovsky was able to return and conclude the action--packed tale with a fifth season that struck a more adult chord than what some might have expected. Makes sense, considering the original fans were all 13 years older, and because the show actually got shifted to the Adult Swim programming block. While the revived storyline might not have pleased everyone, most fans thought the samurai saga's finale chapter was well worth the wait.
Turn: Washington's Spies (AMC) - Ended in August
Along with having one of the more awkward names of any prestige TV drama, Turn: Washington's Spies also provided viewers with one of the more in-depth quasi-fictional takes on the American Revolution ever to hit the small screen. And though the first season was a decent hit for AMC, the viewership took a relatively steep dive in Season 2 and beyond, which likely played into the network's decision to announce the show's end was coming after its fourth season. For what it's worth, Season 4 actually gave Turn: Washington's Spies a decent enough boost in its weekly viewership. Not enough to reverse the decision to end it, but still.
Criminal Minds: Beyond Borders (CBS) - Ended in May
Well, it would seem the folks behind Criminal Minds might always have a much harder time launching a successful franchise of their property compared with those behind NCIS and CSI. Criminal Minds: Beyond Borders was the second spinoff to be cancelled for low ratings, with sister show Criminal Minds: Suspect Behavior being cancelled in 2011 after one 13 episode season. Much like with that series, Beyond Borders was axed due to low ratings. In Season 2, the Gary Sinise starrer, which focused on an FBI team that helped Americans who get into big trouble abroad, only averaged 5 million weekly viewers and a 0.8 rating, and that was down 28 and 33 percent from Season 1. Those numbers were enough for CBS to say goodbye to the show just a few days before the Season 2 finale aired.
Emerald City (NBC) - Cancelled in May
Following the yellow brick road didn't turn out too well for NBC's modernized Wizard of Oz reboot, Emerald City. Even though the dark take on the story did have some fans when it debuted in January, not all of them stuck around for the entire 10-episode run. The premiere had an already-not-impressive viewership of 4.9 million, and by the time the show wrapped, numbers were down to 2.9 million, so the network decided to cut its losses.
The Blacklist Redemption (NBC) - Cancelled in May
The Blacklist has been a solid winner for NBC since it debuted in 2013, so it makes sense that the network would be interested in franchising the property with another installment. The Blacklist: Redemption, which hit the small screen early this year during the hiatus of its mothership series, didn't quite fulfill the promise, however, and the show was let go after its eight-episode freshman season. If nothing else, at least that meant actor Ryan Eggold could return to the flagship series.
Vice Principals (HBO) - Ending in November
In a very rare situation, when Danny McBride and Jody Hill were putting together Vice Principals, they decided that two seasons of comedic and sometimes tragic madness and mayhem would be all they'd need to tell the story of two high school vice principals vying for the top spot at the school. HBO was totally on board, and, in an effort to stay on track with their vision, both seasons were filmed back to back. You can expect the series finale to hit HBO on November 12.
The Catch (ABC) - Cancelled in May
Everyone knows by now that ShondaLand shows like Grey's Anatomy and Scandal tend to rule the airwaves, but The Catch wasn't so lucky. After a pretty solid Season 1, ratings began to fall off in Season 2, which tried to take the story in a different tonal direction. Eventually, the drama about ex-lovers involved in a messy game of fraud and deceit came to a close with its Season 2 finale.
Kingdom (Audience Network) - Cancelled in April
After debuting in 2014 to solid reviews and holding on to a dedicated group of viewers through two seasons, Kingdom was cancelled almost two months before its third season was set to premiere. The drama, which starred Frank Grillo, Nick Jonas and Jonathan Tucker, and focused on a retired MMA fighter training his sons to keep the family legacy going, finished the 10-episode run of Season 3 on August 2.
Grimm (NBC) - Ended in April
For five seasons Grimm was the little supernatural show that could on Friday nights for NBC. The series had a very committed fanbase, and when it was announced last year that the episode order for Season 6 would be cut down to 13 from 22, those fans began to panic. Sure enough, just a few months later it was announced that Season 6 would be the show's last go-round with crazy, fairy tale villains. Luckily for fans, Grimm was able to bring everything full circle in the finale.
Will (TNT) - Cancelled in September
Well, TNT tried to give us a very different view of William Shakespeare with its punk rock origin story Will, but it looks like the effort didn't really pay off. The 10-episode outing of Season 1, which began in July, barely made an impact on summer TV and the show was only able to average 697,000 total viewers, which simply wasn't good enough for the network to give Will a second shot.
Powerless (NBC) - Cancelled in May
Comic fans were super excited when it was announced that DC was planning a comedy about how its various heroes and villains impacted the lives of regular folk. But, when NBC debuted Powerless at mid-season early this year, the show was only able to garner middling viewership, and numbers from the premiere to the second episode dropped 19 percent. A little over two months into its freshman run, Powerless was pulled from the schedule and then quietly cancelled about a month later.
Conviction (ABC) - Cancelled in March
While networks are never excited to talk about failures, Conviction's cancellation is a study in extremes when it comes to such things. The legal drama hit ABC in October 2016 to basically abysmal numbers and continued dropping as the weeks went on. In December, ABC announced that it wouldn't be adding to the initial 13-episode order, which was hardly unexpected, and when the final installment aired the network proceeded to simply not say anything about it being cancelled at all. But, once it was announced that series stars Haley Atwell and Emily Kinney had signed on to new projects, it was pretty clear that Conviction had been sent to the big TV prison in the sky.
Rosewood (Fox) - Cancelled in May
Rosewood started off with a pretty solid audience when it hit Fox two seasons ago, and even though Season 1 viewership went from 7.5 million to 3.5 million, the show's rating in the key demo of 18 to 49-year-olds mostly stayed above 1.0, which gave the network enough confidence to order Season 2. Unfortunately, the second season never reached those heights, and Fox cut the crime procedural from its lineup less than two weeks after the season wrapped.
Switched At Birth (Freeform) - Ended in April
After four seasons of solid ratings and positive critical reception, along with surviving the rebranding of its network from ABC Family to Freeform, it was announced early last year that Switched at Birth would end its run after Season 5. The family drama about, you guessed it, two teen girls who realized they were switched at birth, had a massive 15 month hiatus, but at least it gave the people behind the series enough time to craft a finale that would satisfy fans.
Outsiders (WGN America) - Cancelled in April
Much like Underground, behind-the-scenes changes at WGN America are what mostly led to the network's decision to cancel its Kentucky mountain folk drama, Outsiders. The show was actually one of the network's top performers, but the leadership change at WGN America led to a desire to create more "diverse" programming, so the series was cut. They could have picked a better time to do it, as the cancellation dropped just before the season's final two episodes.
The Great Indoors (CBS) - Cancelled in May
Without his dual gigs on Talk Soup and Community, actor Joel McHale was rip for another network comedy, and it came in the form of CBS' The Great Indoors. For a CBS series centered on the divide between Boomers, Gen-Xers and Millennials, The Great Indoors could have been a lot worse. Especially when it comes to the ratings. The sitcom drew in audiences far more impressive than those for many of the other cancellations on this list, and there were no huge dips anywhere. But still, after keeping hopes on the line, CBS cancelled The Great Indoors after the one season.
Pretty Little Liars (Freeform) - Ended in June
After months of speculation, it was finally announced in August 2016 that Season 7 of Pretty Little Liars would be its last. The team behind the hit series about a group of teen girls involved in a twisty web of dangerous and ever-escalating lies had simply decided that the time was right to wrap things up. The show returned with the second half of Season 7 in April, and managed to pull out a major twist in the big series finale. And what's more, the drama is already getting another spinoff with The Perfectionists.
The Real O'Neals (ABC) - Cancelled in May
With Dan Savage as one of the creative minds behind the "teenager comes out to his family" comedy, The Real O'Neals got a lot of attention for telling a story about a gay teen within a Catholic family, and it helped that the show was well-written. But problems arose in Season 2 thanks to a mini-backlash over one episode's joke about bisexuals, as well as star Noah Galvin's controversially frank interview in which he openly criticized other gay actors and gay TV characters. Had Season 2's numbers ticked upward after such situations, it probably would have lasted longer. But two months after the finale, ABC cancelled The Real O'Neals.
Uncle Grandpa (Cartoon Network) - Ended in June
The completely bizarre misadventures of Uncle Grandpa offered some weird and wonderful stories involving pro wrestling, werewolves, robots, and magic ponies. And for Cartoon Network, the animated series was pretty dependable when it came to viewership numbers. But network execs decided to pull the plug on the show in a very strange manner, announcing a "renewal" for Seasons 4 and 5, but no actual episode orders. Instead, Uncle Grandpa's previously ordered pair of 52-episode seasons were split up so that it created four separate seasons of roughly 26 episodes. And that run ended back in June, although some of the shorts were still airing into July.
Training Day (CBS) - Cancelled in May
One of the few first-year cancellations to make a memorable mark on pop culture, Training Day was not a particularly memorable film-to-TV adaptation of Antoine Fuqua's still-engaging 2001 feature. But the (unfortunate) legacy of CBS' Training Day is that it was the last big TV role for actor Bill Paxton, who passed away just four episodes into the season. The network made it clear there were no plans to recast the role, and the show wasn't doing so well that changing the story would be the ideal move. Soon after its short midseason run had wrapped, CBS cancelled Training Day outright.
Reign (The CW) - Ended in June
While a historical drama about Mary, Queen of Scots wouldn't seem like the perfect show for The CW's youthful demographic, the Adelaide Kane-starring Reign lasted for four seasons alongside the vampires, demons and superheroes elsewhere on the network. (Not that it gave a strictly accurate portrayal of history or anything.) Reign's royalty drew in impressive enough audiences during the early part of its run, but the viewership had dropped considerably for Season 3. And so, in a move most unkind, The CW announced that the show was ending right around the time the Season 4 finale was being filmed. That's cold-blooded.
The Leftovers (HBO) - Ended in June
After Lost ended, Damon Lindelof could have gone the rest of his life without attempting another heady and mystery-driven drama lacking in clearcut answers. But instead, he and novelist Tom Perotta richly and craftily adapted the latter's novel about an apocalypse-adjacent drama full of interesting characters, and it gave HBO viewers one of TV's most magical and devastating series of all time. With star turns from Justin Theroux, Carrie Coon, Amy Brenneman and more, The Leftovers delivered a starkly different season with each passing year, and all involved had come to an agreement that three seasons was a proper-enough run. That finale will forever be burned into our memories, too.
American Crime (ABC) - Cancelled in May
Created by 12 Years a Slave screenwriter John Ridley, American Crime brought the anthology drama format to network television, and with a stellar stable of actors such as Regina King, Felicity Huffman, Timothy Hutton and more. But, despite a constant flow of critical hype and acclaim for each season, the viewership made sharp declines from season to season, which didn't give ABC a whole lot to be optimistic about by way of keeping the series going. And so, two weeks after its shortened third season, American Crime was cancelled.
Bloodline (Netflix) - Ended in May
With one of TV's most talented ensembles, Bloodline built itself up as a taut, secret-filled look at the unraveling of a tortured family. Perhaps unfortunately, the strength of Ben Mendelsohn's Season 1 performance couldn't be recaptured in full, and viewer feedback faltered. But months after giving Bloodline its Season 3 renewal, Netflix dealt the show and fans a double-blow by announcing it would be the last season, and that its episode order was being cut down. So the writers had ten episodes to finish delivering the rest of their five-season plan, and to say it felt rushed is to say that Kevin Rayburn made sorta bad decisions.
Making History (Fox) - Cancelled in May
Making History brought three things together that have been really popular in the last decade: Adam Pally, Leighton Meester, and time travel. It turns out, though, that particular combination isn't necessarily one that TV viewers were clamoring for. Not even with Lego Movie helmers Phil Lord and Chris Miller executive-producing things. Also starring the also-enjoyable Yassir Lester, Making History did not earn historic numbers for Fox, and it also failed to win over critics, who mostly deemed it fine enough. It was cancelled along with several others in May.
Chelsea (Netflix) - Ending In December
After a vaguely successful first season and a more enjoyable retooled second season (which still isn't finished yet at the time of this writing), Chelsea is coming to an end on Netflix, though not because the streaming giant decided to cancel it. Chelsea Handler herself decided to stop the series at the end of this year, aiming to focus on more life-affirming projects. She will still keep working with Netflix on the other projects yet to come from her overall deal with the company, but don't expect anymore talk shows in the near future.
Fashion Police (E!) - Cancelled in October
Once a weekly staple on E!, the humorously judgmental Fashion Police was seemingly inseparable from its host and lead funnywoman Joan Rivers, but after her death in 2014, Fashion Police kept on trucking, albeit in a varying format. Perhaps it shouldn't have, though, as the unscripted series became a revolving door for entering and exiting hosts such as Kathy Griffin, Kelly Osborne, Margaret Cho and more. E! made the decision to cancel Fashion Police, with the consolation prize of a finale special partly devoted to Joan Rivers.
APB (Fox) - Cancelled in May
A future-tech police drama centered on a super-rich guy who also happened to always be the smartest man in the room, APB wasn't exactly getting too far outside the box with its core concept. But it was created by Burn Notice and The Gifted's Matt Nix, and it starred Weeds' Justin Kirk and Kingdom's Natalie Martinez, so there was easily a chance it could have been easygoing popcorn TV. It wasn't quite that, though, and viewers weren't quite interested in sticking with it through its twelve-episode season, with Fox cancelling it two weeks after its finale aired.
Gypsy (Netflix) - Cancelled in August
It was a pitch that sounded quite alluring on paper: a psychosexually motivated drama in which Naomi Watts plays a therapist embracing a dual personality, with Billy Crudup as her doe-eyed husband. It seemed like there could have been hints of Mulholland Drive in creator Lisa Rubin's first big TV show. Instead, Gypsy debuted a rather slow and tedious ten episodes for its first and only season, and the result was not something that immediately made audiences clamor for more. Rather, Netflix immediately called it quits with Gypsy, cancelling the drama less than 45 days after it debuted.
Girlboss (Netflix) - Cancelled in June
Based on #Girlboss, the similarly titled autobiography from self-made success Sophia Amoruso, Netflix's adaptation Girlboss came out of the gate without much fanfare involved, starring Britt Robertson as the similarly named Sophia Marlowe. Tracking the birth and growth of the online retailer Nasty Gal, Girlboss was not well-received on the whole, which is surprising, given creator (and former 30 Rock writer/producer) Kay Cannon's success writing the Pitch Perfect screenplays. Amoruso herself did not champion the changes made to her life story, and was fine with the cancellation that came just two months after Girlboss was released.
The Night Shift (NBC) - Cancelled in October
Medical dramas are as much of a TV staple as anything else, and NBC's The Night Shift made its mark by shifting its time setting to the overnight hours, when things aren't quite so ordinary. Viewers were always nicer to The Night Shift than critics were, and those viewers ended up drifting away from T.C. & Co. over the years, and the summer drama's lowered ratings likely played a role in The Night Shift getting cancelled after four seasons. At least there weren't any massive cliffhangers left dangling.
Major Crimes (TNT) - Ending Early 2018
A spinoff of the successful Kyra Sedgwick-starring drama The Closer, Major Crimes made it through five consistent seasons on the cable network before it was announced that Season 6 would be the crime drama's final season. The creator gave a pretty sizable social media explanation about what happened, basically saying that TNT decided the show wasn't worth all it took to keep going forward, as showcased in part by a dipping budget and a Halloween night premiere for the final season.
The Get Down (Netflix) - Cancelled in May
Co-created by musical filmmaker Baz Luhrmann and playwright Stephen Adly Guirgis, Netflix's soulful throwback drama The Get Down immediately raised eyebrows with its all-encompassing subject matter and its gigantic budget. That lengthy price tag, combined with a largely mild reaction from subscribers, worked together to keep the wildly imaginative and lushly crafted series limited to its two-part eleven-episode season. As one of Netflix's relatively few cancelled series, The Get Down has the chance to find a cult audience over the years, thanks to everything its massive budget provided for it.
Man Seeking Woman (FXX) - Cancelled in April
Even for huge fans of the surreally bizarre FXX comedy Man Seeking Woman, it has to still be strange to think that the show actually got to last for three whole seasons. Created by Simon Rich and based on a collection of short stories from the author, Man Seeking Woman presented warped and often super-literal examinations of modern romance and dating, pitting Jay Baruchel in the middle of some of the most bonkers TV episodes in each season's respective year. (That penis monster will never be forgotten.) And even though the show's ratings were consistent, they weren't very noteworthy, and FXX ended the show after Season 3.
Teen Wolf (MTV) - Ended in September
Similar to how Buffy the Vampire Slayer turned a comedic film into a fan favorite TV drama, MTV's Teen Wolf brought a major tonal shift to the Michael J. Fox film from 1985. Teen Wolf and its often-changing cast were consistently beloved on social media across each of its seasons, and there was much howling at the moon to be had whenever it was revealed that MTV was ending the show following its sixth season, which aired earlier this year with several former cast members returning to the fray.
Being Mary Jane (BET) - Cancelled In October, Ending with TV Movie
By and large a huge hit for BET, Being Mary Jane got four seasons to deliver the emotionally grounded drama anchored by actress Gabrielle Union, who starred as the struggle-facing news anchor Mary Jane Paul. While the show had viewers, there were some big shifts behind the scenes in the latter years that likely caused cancellation-minded heads to prevail at the network. BET cancelled Being Mary Jane, but offered up the olive branch of a TV movie finale set to air in 2018.
No Tomorrow (The CW) - Cancelled in May
There are so many dark and dreary apocalypse-minded TV shows and movies these days, and The CW tried to change up the pace with the romantic and comedic drama No Tomorrow, based on the Brazilian series How to Enjoy the End of the World. Starring Tori Anderson and Joshua Sasse, No Tomorrow was seen as a fun and airy show by critics, but audiences at large didn't put "tuning in" on their bucket lists, and The CW cancelled it in May. Cleverly enough, the storyline got a post-cancellation epilogue that capped things off.
Incorporated (USA) - Cancelled in February
Executive produced by Ben Affleck and Matt Damon, Incorporated had a bit of a buzz going for it leading into its USA premiere last year. But the futuristic drama didn't manage to muster up that big of an audience for the government and bureaucracy stories that Incorporated was telling. Though the ten-episode first season actually kept up a pretty consistent viewership, with relatively few lows, it still wasn't enough to secure a second season, and USA cancelled it back in February, just over a month after the finale.
Girls (HBO) - Ended in April
If you were ever interested in reliving your messy, indecisive, sometimes independent, frequently broke and confusing twenties, then since 2012 the show to beat was HBO's Girls. The titular ladies at the center of the show were frequently hard to even like, much less love, but there was something fascinating, especially at the beginning, about watching them fail repeatedly. In January 2016, though, word came down that creator/star Lena Dunham and her team had met with HBO and convinced the network that ending after Season 6 was the best decision, which had been her wish all along.
Duck Dynasty (A&E) - Ended in March
One of the few cable reality shows to develop a marketing empire, A&E's Duck Dynasty brought superstar status to the bearded, Christian and duck-calling Robertson family in West Monroe, Louisiana. After debuting in 2012, it didn't take too long for Duck Dynasty to reach mass audiences, and its Season 4 premiere is one of the most-watched unscripted cable episodes of all time. The Robertson family's views and opinions often got them into trouble, though, and by the last couple of seasons, the viewership was back to Season 1 averages. But it was the family, and not A&E, that called it quits for Duck Dynasty.
Pure Genius (CBS) - Cancelled in May
Coming off of Parenthood, Jason Katims dove into the medical drama field for CBS' Pure Genius, which told the well-worn story of a bazillionaire, who wants to spend his money on good things like hospital technology, meeting up with a brilliant surgeon who wants to turn modern hospitals into the most efficient operations imaginable. All involved got to do their beneficial work for 13 episodes, and Pure Genius maintained a pretty solid audience and ratings throughout its non-lauded run. Yet, instead of giving the show an easy renewal, CBS had everyone waiting until May for the disappointing cancellation.
The Steve Harvey Show (Syndication) - Ended in May
Usually, when a talk show ends it's due to low ratings and it can take years for the host to get another show with their name on it. That is not the case with The Steve Harvey Show, as not only was it frequently among the top five daytime talk shows, but host Steve Harvey already has a new daytime talker in the works. It was suspected that Harvey would end his show when his contract was up with EndemolShine North America, which produced the program. The desire to plan another show similar to it likely stems from his proven ability to grab ratings, and his new deal with IMG and NBCUniversal, which will allow Harvey to film the show in Los Angeles near many of his other gigs, as opposed to filming in Chicago.