Watch John Cena Sing Ridiculous Fake Ad Jingles On The Tonight Show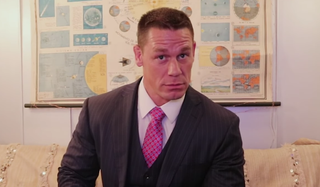 WWE superstar John Cena is one of those celebrities that can do just about anything and it will be regarded as worth others' time. For instance, he appeared on The Tonight Show this week to not only show off his Mandarin-speaking skills, but also to promote some everyday objects with ridiculous fake ad jingles. It's a silly concept that works best without knowing a lot, so dive in!
That was just genius, right? It came across somewhat as if John Cena was making up all of those jingles on the spot, as opposed to prepping things ahead of time. If he did improvise all that, he gets some major kudos from me. And if he didn't improvise all that, he gets a similar supply of kudos for sending me into a spiral of confusion. That eggnog jingle and the gel pens jingle were almost too terrible to have actually been written out ahead of time, but maybe he just came up with a few specific rhythms in his head before filming started, knowing that he'd want to use them. Maybe I shouldn't be so worried about this...
John Cena went the extra mile with the snowmobiles jingle by advising people not to burn their asses, which is good advice for any product, any day of the week. I'm not gonna lie, either, I might think that candy canes ditty was as good as any new music I've heard in 2017.
Let's celebrate the jingle he came up with for "Complimentary Snacks on an Airplane," because there is definitely genius to be found in simplicity. Maybe not specifically in this case, but maybe so.
John Cena's visit to The Tonight Show Starring Jimmy Fallon also included another few ridiculous moments, believe it or not. Below, you can watch him taking part in a sweater-filled round of "Mad Lib Theater."
While John Cena can't be seen anywhere soon -- at least that's what his entrance music seems to convey -- you can watch The Tonight Show every weeknight on NBC at 11:35 p.m. ET. (Cena will actually be in USA's Psych reunion movie, and he's got a new animated show coming soon.) And for all the other new and returning shows hitting the small screen soon, head to our fall TV premiere schedule and our 2018 midseason premiere schedule.
Your Daily Blend of Entertainment News
Thank you for signing up to CinemaBlend. You will receive a verification email shortly.
There was a problem. Please refresh the page and try again.